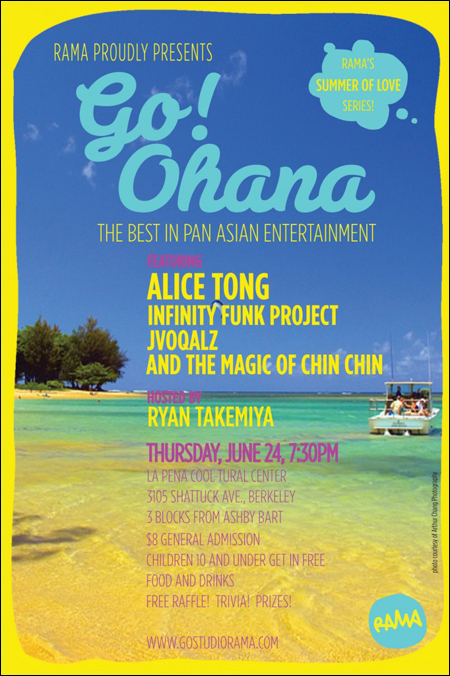 Bay Area friends, here's something to do for your Thursday night... You are invited to join RAMA for its monthly APA music and art show
GO!OHANA
, featuring Chin-Chin, JVoqalz, Infinity Funk Project and special guest Alice Tong. It's this Thursday, June 24 at the La Pena Cultural Center in Berkeley. Here are some more details:
GO!OHANA 6/24

Thursday, June 24, 2010
7:30pm - 9:00pm

La Pena Cultural Center
3105 Shattuck Avenue
Berkeley, CA

Join us at RAMA's monthly APA music and art show: GO!OHANA. Emceed by Ryan Takemiya, GO!OHANA showcases independent Asian American art on a one-of-a-kind stage at La Pena Cultural Center. Check out our YouTube channel for videos of previous performances http://www.youtube.com/gostudiorama.

FEATURING:

::::|||| The Magic of Chin-Chin ||||::::
http://www.chin-chin.com/
Growing up in the Bay Area, his fellow magicians dubbed him "Master Prodigy" for his great aptitude in the art of magic at a very early age. Soon the master prodigy became a master. Three times awarded "Stage Magician of the Year" in San Francisco, Chin-Chin has become the most awarded magician in the Bay Area. He combines the art of illusion with a hilarious and dynamic personality and intertwines a message of love and respect to present a show all audiences can enjoy.

::::|||| JvoQalZ ||||::::
http://www.youtube.com/jvincci07

::::|||| Infinity Funk Project ||||::::
http://infinityfunkproject.bandcamp.com/
The Infinity Funk Project, based out of San Francisco, Ca stand by the phrase "four funky emcees collaborating as one." Mikey Manifest, Viberoc, Sol Solution, and Mild Mannerd J assembled in August of 2007. Coming together to touch people and make a heart beat in their city, the bay area and worldwide. Bringing their own individual styles through hip hop, feel good music, and a taste of funk back into the modern everyday culture.

AND SPECIAL GUEST:

::::|||| ALICE TONG ||||::::
http://alicetongmusic.com/
Alice Tong, singer, songwriter, and multi-instrumentalist, is currently touring the country to promote her 2nd Album "Please Be Brave Before the Lions They Come", and will be joining us in Berkeley as she returns home to the Bay Area. Alice's music has been described as "Absolutely soulful…her voice and music a long time coming for Asian Americans — something we have never heard before."- Karen Lin, video producer

Admission $8, cash only
Doors open at 7:00pm
Food and Drink!
Free Raffle!
It's the summer of love! And yes, you read that right -- there's going to be a magician. Come out, see some exciting independent APA talent, and support community arts and entertainment. For more information, visit the RAMA website
here
, and the GO!OHANA Facebook event page
here
.