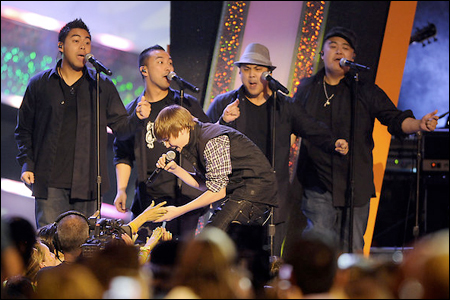 Bieber, I cannot escape you... but this is a good one. The
New York Times
has a good story on Filipino American R&B group Legaci, who have recently been propelled into the spotlight as backup vocalist for pop heartthrob Justin Bieber:
Unexpected Harmony
.
Legaci is Dominic Manuel, Chris Abad, Micah Tolentino and Delfin Lazaro... who just might be "the most visible yet invisible pop figures in the world." And, like a lot of Asian American musicians, they largely owe their success to a little thing thing called YouTube:
"We actually had a meeting," said Delfin Lazaro, 28, of Legaci, who had been a member of another '90s Filipino R&B group, Next Phaze. "And we said, 'O.K., we want to be the first Asian-American group to really make it, so how are we going to do this, since we didn't have any money?' We dedicated ourselves to our YouTube videos."

The group has covered a few Boyz II Men classics, slowed Jason Derulo's sparkling hit "Whatcha Say" into a plaintive, heart-melting ballad, and when it took on Iyaz's "Replay," Mr. Tolentino recreated its rhythms and studio effects using old-school hip-hop beat-box vocal techniques.

But it was Legaci's version of "Baby," the ubiquitous spring smash by Mr. Bieber, that changed everything. Joined by Ms. Nguyen and the rapper Traphik (another YouTube mainstay), the group stripped "Baby" of its slick production and re-arranged it into a passionate slice of pop.

The video was barely up for one day when the group received a call from Scooter Braun, Mr. Bieber's manager, who just three years ago had discovered Mr. Bieber in much the same way, watching him perform his own cover versions on YouTube. Mr. Braun was so impressed with Legaci's take on the song that he invited the group to join Mr. Bieber.
The article discusses the conspicuous lack of progress Asian American artists have made in the mainstream music industry, while they've somehow found significant success -- and large fan followings -- on YouTube. It's a fascinating phenomenon. (Right now's a good time to note that I'm quoted a couple of times in the piece.) Anyway, read the article
here
.