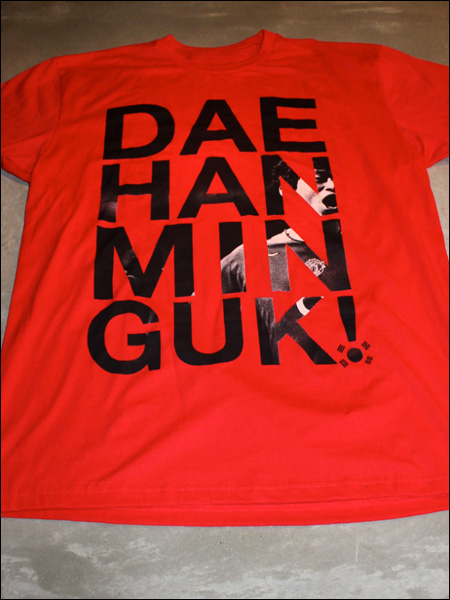 Got up ridiculously early this morning to watch South Korea get thoroughly trounced by Argentina, 4-1. Man, that hurt. Things got pretty messy. Lionel Messi, that is. And I shake my fist at you, Higuain.
Still, win or lose, why not cheer for your team in style? In celebration of South Korean soccer and its fans, I've teamed up with the fine folks of
My Ninja!
and Wired Rebels to create a
limited edition World Cup tee
. Red shirt with black/white lettering, guest starring Park Ji-sung.
I came up with the idea last week, started talking with my man Peter Hong, and things came together pretty quickly. Big props to Daniel Park. I'm pretty happy with how it turned out. Purchase one
here
. They're also available in
women's sizes
. But they're going fast, so get yours quick!
UPDATE: If you're in Los Angeles, these shirts are also currently available at
MÖBIUS
in Koreatown (6th and Berendo). Gear up before the next match!