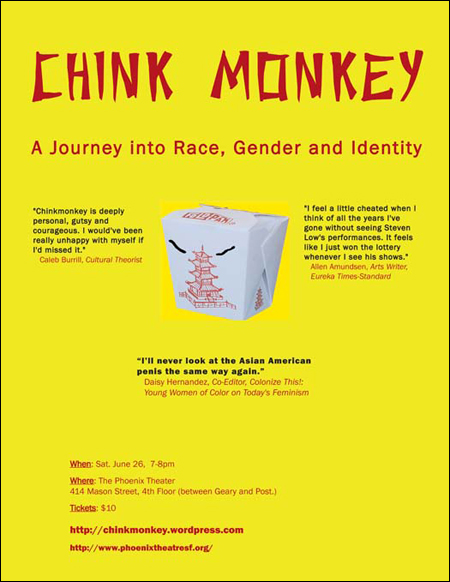 I recently heard from Steven Low, whose one-person show,
Chink Monkey
, is premiering Saturday, June 26 at the Phoenix Theater in San Francisco. Six years in the making, the show is described as "a highly provocative exploration of Asian American interracial romance and Asian American masculinity." Here are some more details:
Chink Monkey

Next Performance: Sat. June 26
When: 7-8pm
Where: Phoenix Theater, San Francisco
414 Mason Street, 4th Floor (Between Geary and Post. 7 min. walk from Powell St. BART)
Tickets: $10

Steven is soul-searching, wandering the blue highways. Now he's confronted by the most terrifying enemy, himself, and he can't get him to shut up… or to stop punching him in the face. Acclaimed Bay Area performer, Steven Low, debut's his one man show, Chink Monkey; a multimedia cacophony of emotions. Follow an ignoble and absurd cast of characters as Steven reveals the unspoken experiences of interracial romance, race and masculinity with unflinching honesty.

Not for children

"Orientals can be very provoking" George Orwell
I haven't seen the show, so I cannot attest to its quality or message, but I can make a good guess that's it going for provocative. For more information about
Chink Monkey
, go to the blog
here
, or the Phoenix Theatre website
here
.