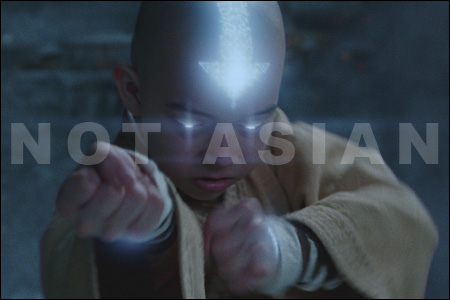 More press from M. Night Shyamalan... The director recently appeared as a guest on CBS'
Early Show
to promote
The Last Airbender
:
M. Night Shyamalan's First Kids' Movie
. When asked about the casting controversy, he dropped this little gem:
Shyamalan said, "It's a very small amount of people. ... We're talking about a few thousand people, but I'm saddened because they want them to look at me and be like, 'It's fantastic, this Asian guy has the mantle. His name is on the toys. This is fantastic.' Go get a Happy Meal, you'll see my name, this is good stuff. I want them to feel proud and excited. I want everyone to feel that way."

He continued, "But I think there's a misunderstanding about anime. Anime in and of itself is an art form where the features are ambiguous. When we watched the cartoon, I saw my daughters in it. I was like no doubt these are my daughters in the roles. And every family felt that and that's the beauty of anime. It's the most culturally diverse summer movie of all time. That should be its greatest asset is that it's so culturally diverse. Every nationality is represented with the exception of blond people."
Am I to understand that he's saying we shouldn't be upset about the casting -- we should be happy for him, as the Asian American director of this movie? Somehow, I find it really difficult to muster up the same pride and excitement he's talking about.
If you're in the Los Angeles area, and you feel strongly about this issue, there is a protest being organized this
Thursday, July 1
at the
Arclight Cinerama Dome
in Hollywood. Here's the note with more details from Guy Aoki of Media Action Network for Asian Americans:
OK, our protest is going to be Thursday at the Arclight Cinerama Dome. Address: 6360 Sunset Blvd/Hollywood, CA 90028 1 block west of Vine, Hollywood, 90028. I also drove a block around the site to scope out the best parking. The best is southwest of it off Ivar (opposite Amoeba Records) or De Longpre (1 block south of Sunset). With restaurant validation, it's $2 for two hours, then it goes in 20 minute increments. The others are $6 or $8 flat fee or you need theatre validation.

Also, please tell everyone NOT to park in the Jack 'n the Box restaurant parking lot because they tow cars (I can speak from experience!)

We need people to be there at 5 p.m. sharp because although we're telling the media to come at 6, they often come 1/2 hour early and probably want to get some interviews done with us in time to edit them and put it on the 6:00 news. We will be bringing picket signs. We want to be peaceful and not stop anyone from going into the theatres. We'll just be there to loudly make our points!
So if you're in the area, and you're free, they could use your help bringing attention to this issue. The more bodies, the better. It's a going to be a pretty sad looking protest if there's only five dudes in a circle holding signs.
Also, if you're in
New York
, they're looking for people to help get
The Last Airbender
protest movement organized.
Racebendin
needs one or two people who can be at the red carpet on Wednesday night to coordinate supporters, as well as perhaps talk to the press (without coming off as crazy). If you're interested in helping out, contact Mike Le at mike@racebending.com.