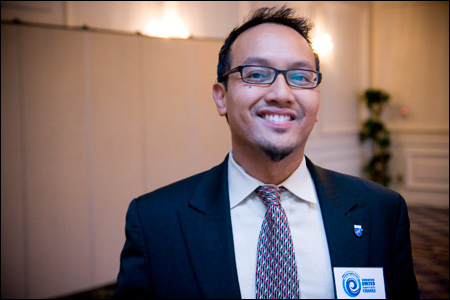 On Saturday afternoon, I was shaken by news -- initially, an outpouring of grief on Facebook and Twitter -- of the shocking, untimely death of activist and educator John Delloro, reportedly of a heart attack. John was a greatly loved and respected leader in the community:
Delloro was executive director of the Dolores Huerta Labor Institute, national president of the Asian Pacific American Labor Alliance, and a former staffer for SEIU and AFCSME in Southern California. Delloro was also a UCLA visiting lecturer in Asian American Studies, and a member of the city's Board of Taxicab Commissioners. "Anyone who came through the L.A. labor movement knew John, who was a hero to Southern California workers and a bright light of Asian Pacific American studies and activism," writer and former City Hall aide Joshua Joy Kamensky posted on Facebook.
More here:
John Delloro, RIP
. There isn't a lot of official news out there yet, but I've been reading over some of the Facebook and blog tributes to John that have started to emerge over the last day, painting a portrait of a life filled with passion, dignity and dedication to justice.
I didn't know John Delloro very well, but I know he followed this blog. I met him just a few months ago, when I had the privilege of speaking in one of his Asian American studies classes. But even in the short time we talked, the passion and care for his students was immediately evident. He made me want to be a better blogger.
John Delloro, you will be missed. I'm sorry that we didn't have the chance to grow as friends and fellow activists. My thoughts and prayers are with your family and loved ones. More here:
John Delloro, labor leader, reportedly dies
. And more tributes to come, I'm sure.
UPDATE: Here's my friend Oiyan's reflection in John's passing, along with a press release from the UCLA Asian American Studies Center, Asian American Studies Department, and Labor Center:
Rest in Peace and Power, John Delloro
. Here's also the press release from the Asian Pacific American Labor Alliance:
APALA Mourns Loss of National President John Delloro
.