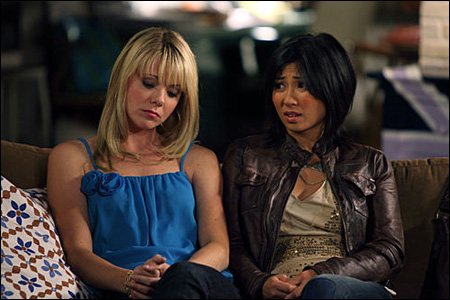 Hey, how come nobody told me Smith Cho is in the cast NBC's
100 Questions
?It's a new comedy series "that provides hilarious answers to 100 questions about love." Smith plays Leslie, friend to the unlucky-in-love main character. I haven't seen it, but it's been on for about a month.
If you want to see her on the show, you better catch it while you can -- it's likely it won't be on the air much longer. The summer sitcom premiered on May 27 to some pretty crappy ratings, and the numbers have never really gotten better. NBC appears to have little faith in the series, having ordered only six episodes.
It's highly unlikely to see a second season. This is unfortunate for Ms. Cho, who I like, but seems to have an unlucky track record of getting gigs on canceled shows (
Knight Rider
,
Emily's Reasons Why Not
).
100 Questions
airs Thursdays, 8:30/7:30c on NBC.