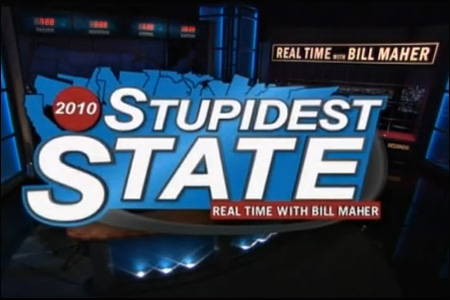 I've never been a big fan of HBO's
Real Time with Bill Maher
(can't stand him, actually), but the show has been running a particularly inspired bit called the
Stupidest State in America
.
It is, as the title indicates, a tournament-style showdown to determine which state is indeed the stupidest in the United States. The competition has been whittled down to the final four:
BRAIN DEAD CONFERENCE
Texas
Mississippi

BONEHEAD CONFERENCE
Alabama
Arizona
They're all pretty strong contenders, each with a solid case to be honored with the distinguised title of Stupidest. With all the crazy, idiotic stuff that's been going down lately, I'm rooting for a final between Texas and Arizona. Cast your vote
here
.