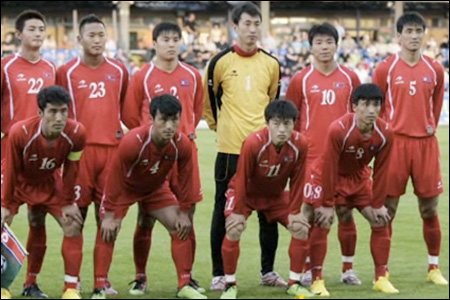 I'm not ashamed to admit it -- I've got World Cup fever. I was one of the crazy people who was up Saturday at four in the morning to see South Korea play (and defeat) Greece. But the team I'm really curious about is North Korea, who are playing for the first time at the World Cup in 44 years.
This is a good time to look back at the team's last World Cup appearance in 1966, at the height of the Cold War. Considered underdogs, North Korea became the first Asian team to progress beyond the first round after upsetting soccer giants Italy and reaching the quarterfinals:
North Korea, the Darlings of 1966
.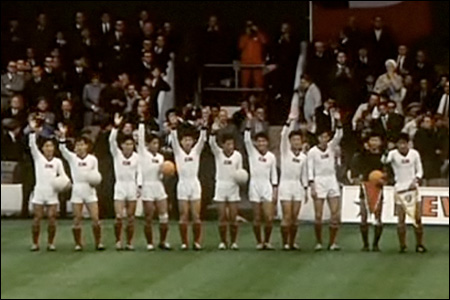 The team's story is profiled in the highly entertaining 2002 documentary
The Game of Their Lives
, directed by Daniel Gordon. Forty-four years later, the parallels between then and now are pretty interesting:
As North Korea Returns to World Cup, Filmmaker Recounts 'Underdog' 1966 Team
.
If you've got the time to see
The Game of Their Lives
, I highly recommend it. It's really fascinating, even if you're not a soccer fan. The entire film is actually available for viewing on YouTube (in eight parts). Take a look at part one
here
. (Thanks, J.)
A lot of the political tension and controversies surrounding the current North Korean team were similar to those faced by the 1966 team. But more importantly, on the field, they've got their work cut out for them -- they're not expected to make it out of the first round. Odds-makers have them at 2000/1 to win the World Cup. I'll be watching when they play Brazil this afternoon.
UPDATE: Since nobody is freely traveling out of North Korea, their soccer doesn't even have real North Korean fans at these games. They do, however, have a highly organized, color-coordinated cheering section... of Chinese volunteers:
North Korea's World Cup fans who are really 'volunteers' from China
.