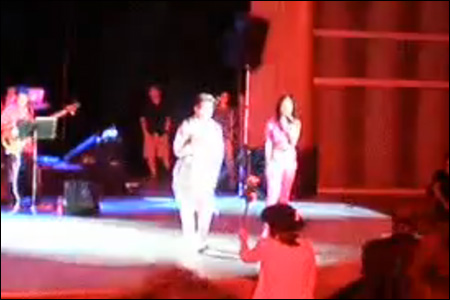 This is pretty crazy. Sunday night in Santa Clara, California, anti-communist activist Ly Tong was arrested for attacking a Vietnamese pop star with pepper stray during a concert:
Santa Clara police: Activist Ly Tong arrested in pepper spray attack on singer
. The attack was captured on
video
(at about the 1:55 mark):
The whole thing went down when singer Dam Vinh Hung bent down at the front of the stage to accept a flower from an old lady -- Ly Tong in disguise! -- and was greeted with some pepper spray to the face. Tong, a self-styled "freedom fighter," apparently views Hung as an emblem of Vietnam's communist rulers:
The attack came despite extra security — hired in part because Hung, while a singing sensation in Vietnam, is seen by some Vietnamese émigrés as an emblem of their former homeland's communist rulers. Hundreds of protesters, joined by a Vietnamese congressman from Louisiana, had gathered outside the Santa Clara Convention Center.

Which raises the question: How exactly could Tong, a famed prankster and mischief maker, manage to get so close?

Simple, police said. He bought a ticket.

And the wig and the hat didn't hurt. As to whether the get-up was really that convincing, "I don't know," said Lt. Phil Cooke. "I wasn't there. But he got close enough to hand over the flower."

About half of the 600 people attending the show fled in panic. But only a few audience members, along with a female performer, said they felt the effects of the pepper spray. No one was seriously injured, and Hung retook the stage about 15 minutes later.
Ly Tong was booked into Santa Clara County Jail on suspicion of assault, burglary (entering a building with the intent to commit a crime) and discharging a chemical irritant.
This incident was apparently pretty tame compared to some of the other stunts Tong has pulled in the past, which includes hunger strikes and hijacking planes. And it sounds like he's got a lot of support behind him:
Hundreds flood courtroom in support of Vietnamese activist Ly Tong
.