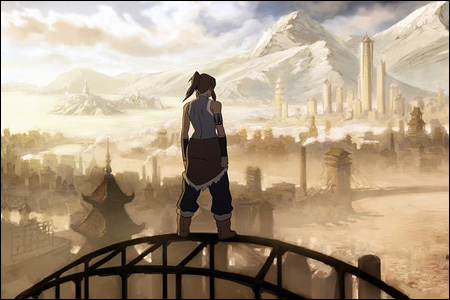 I just heard the very exciting news that Nickelodeon has announced a new animated series from the creators of the popular cartoon epic
Avatar: The Last Airbender
. The spinoff, tentatively titled
The Legend of Korra
, takes place 70 years after the original series and will premiere in 2011:
Nickelodeon sets 'Last Airbender' sequel for 2011
.
Nickelodeon said in a release that "The Legend of Korra takes place 70 years after the events of 'Avatar: The Last Airbender' and follows the adventures of the Avatar after Aang - a passionate, rebellious, and fearless teenaged girl from the Southern Water Tribe named Korra."

Korra's quest eventually leads her to Republic City - the epicenter of the world of "Avatar." A metropolis powered by steampunk-type technology, the city is inhabited by people from all nations. Korra finds that Republic City suffers from rampant crime and is also dealing with an anti-bender revolt. Korra is tutored by Aang's son, Tenzin, is the ways of airbending.
Avatar
fans, are you digging this news? I am. I admit, I'm a latecomer to the
Airbender
bandwagon, but I've been slowly making my way through the animated series on DVD, and it's pretty damn good. I'm almost finished, and now happy to hear that there will be more adventures in the four nations. More here:
'Avatar: The Last Airbender': Nickelodeon Greenlights TV Sequel 'The Legend of Korra'
.
I just ask, whatever you do, keep this out of the hands of Shyamalan.