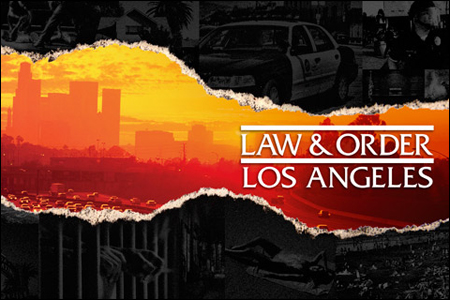 Totally missed this when it was posted last month...
Law & Order
fans, I know you were bummed when NBC announced they were canceling the cop procedural, after twenty seasons on the air.
Kung kung!
But that's okay. In its place:
Law & Order: Los Angeles
. Because we all know that L.A. needs some more law and order. On television, at least. Last month, they released some
character breakdowns
for the show -- including one definite Asian American character:
Detective Rex Winters: A handsome, rugged ex-Marine in his early 40s, Winters has the intuition of a natural cop. His experience during the Rodney King Riots - which occurred during his second month on the job - shaped his philosophy on policing. Basically, the world is chaos and people are either good or bad. He's currently married to his ex-partner. Seeking a Caucasian, African-American, or Hispanic actor.

Detective Tomas "TJ" Jaruszalski: A mid-30s Hollywood native, TJ possesses a cynical view of the entertainment industry. He's affable, smart, and confident. In contrast to his partner's black-and-white view of things, TJ sees all shades of gray. He's also a health nut with an active social life - which is typically code for major hottie. Seeking a Caucasian actor.

LT. Park: Captain of the LAPD Robbery Homicide Division, the fortysomething Park is a cool professional who keeps his/her private life private. He's also a passionate advocate for his/her detectives. Seeking an Asian actor or actress.

ADA Peter Morales: An offspring of a political family, Morales - who is also in his 40s - is a "battlefield general" in the courtroom yet "coarsely sardonic and self-deprecating" in real-life. Seeking a Hispanic actor.

DDA Eva Price: This brainy and drop dead gorgeous assistant prosecutor doesn't take crap from anyone. Seeking a Caucasian or African-American actress in her 20s.
I think it's great that they've conceived the show with an Asian American character in mind, though they apparently haven't thought through the character enough to settle on whether Lt. Park is going to be a man or a woman.
If all things were fair, I don't see why Detective Rex Winters or Detective Tomas "TJ" Jaruszalski couldn't be played by an Asian actor either. But they've made it explicitly clear that they're "seeking a Caucasian, African-American, or Hispanic actor" or just plain "Caucasian actor."
It's worth noting that Michael Ausiello of
EW
, playing
armchair casting director
, has made a few suggestions about who he'd like to see playing these characters, including Ken Leung as Lt. Park and Kristin Kreuk as DDA Eva Price. Sure, why the hell not?