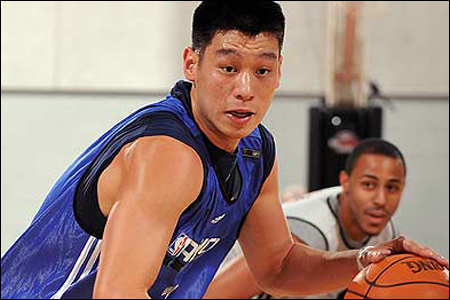 Jeremy Lin! You might be seeing this kid playing in the NBA after all... The big buzz out of NBA Summer League is all about Harvard hoops star Jeremy Lin, who has been wowing crowds and could be signing a contract with the Dallas Mavericks. Here's some of the talk...
Harvard's Lin testing out his basketball IQ in Vegas
: "Can't get an athletic scholarship to the Division I school of your choice? Try the next best thing. Try enrolling at a little school called Harvard University. It's not the conventional route. But that's what hoops prodigy Jeremy Lin decided to do. After four years of matching wits and jump shots in the Ivy League, Lin is now balling under the bright lights of the NBA Summer League in Las Vegas for the Dallas Mavericks."
John Wall vs. Jeremy Lin
: "John Wall earned a huge ovation from the crowd at Cox Pavilion during introductions Thursday night, easily the biggest cheer for any of the Wizards or Mavericks players. By the end of the game, the crowd had turned on Wall and was cheering for Dallas's Jeremy Lin, the undrafted point guard out of Harvard who scored nine fourth-quarter points."
Lin's prospects grow with Mavs squad
: "Lin is on the verge of signing an NBA contract, and it could be with the Mavericks, who view him as an intriguing developmental point guard and a strong candidate to run the club's new D-League affiliate that begins play this fall in Frisco."
Lin could wind up in D-League
: "If Jeremy Lin signs a contract with the Mavs, who have two roster spots open, he would almost certainly take on the job as starting point guard for the Texas Legends, the Mavs' new D-League affiliate that will play in Frisco this fall. Mavs president of basketball operations Donnie Nelson loves the point guard's potential, but doesn't necessarily think he's ready to be a rotation player."
Jeremy Lin on Galloway & Company
: "Mavericks Summer League point guard Jeremy Lin joins GAC to chat about preserving through the uphill climb to make it in the NBA."
Team should roll dice with Las Vegas star Lin
: "Seeking to become the lone Asian-American in the NBA, he has generated a fan base in Vegas, as they took mere minutes to shift from watching No. 1 overall draft pick John Wall to being wowed by Lin as he tried to rally the Mavericks against Wall's Wizards."
Mavericks' Jeremy Lin: 'I would love to stay in Dallas'
: I can't really say the names of the teams - orders from my agent. I appreciate everything that Dallas has done for me. I definitely enjoy that. I would love to stay in Dallas, but I can't go into details on what their interest level is.
UPDATE:
Harvard guard Lin piques L.A.'s interest
: A new name has emerged as a candidate to fill a spot on the Los Angeles Lakers' bench as a backup to starting guards Derek Fisher and Kobe Bryant. Jeremy Lin, an undrafted 6-3, 200-pound combo guard from Harvard, is being considered by the Lakers after the team opened contract discussions with Roger Montgomery, Lin's agent, over the weekend.