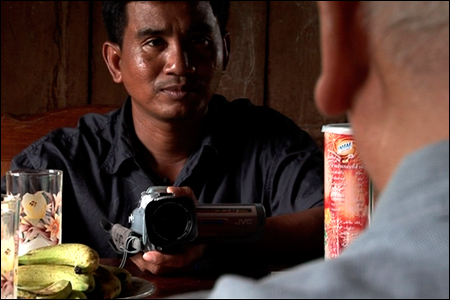 The award-winning documentary feature
Enemies of the People
, directed by Thet Sambath and Rob Lemkin, is opening in limited theatrical release in New York on July 30 and Los Angeles on August 6 from International Film Circuit. The film explores the truth about the Killing Fields and the Khmer Rouge who were behind Cambodia's genocide. Here's the synopsis:
In 1974, Thet Sambath's father became one of the nearly two million people who were murdered by the Khmer Rouge when he refused to give them his buffalo. Sambath's mother was forced to marry a Khmer Rouge militiaman and died in childbirth in 1976, while his eldest brother disappeared in 1977. Sambath himself escaped Cambodia at age 10 when the Khmer Rouge fell in 1979.

Fast forward to 1998, and Sambath, now a journalist, got to know the children of some senior Khmer Rouge cadre and gradually earned their trust. Then, for a decade, he spent weekends visiting the home of the most senior surviving leader, Nuon Chea, aka Brother Number Two under Pol Pot. "But he never used to say anything different from what he told Western journalists," says Sambath, "'I was low-ranking,' 'I knew nothing,' 'I am not a killer.' Then one day he said to me 'Sambath, I trust you, you are the person I would like to tell my story to. Ask me what you want to know.' For the next five years he told me the truth, as he saw it, including all the details of killing."

Sambath also won the confidence of lower-level Khmer Rouge soldiers, now ordinary fathers and grandfathers, who demonstrated for him how they slit people's throats. It was the first time these murderers admitted what they had done. He taped their interactions, and together with British documentarian Rob Lemkin created this landmark film.

For Sambath, it has been an ongoing, lifelong personal journey to discover what was behind such horror; he neglected both his family and his own happiness in the search for truth with hope of reconciliation. ENEMIES OF THE PEOPLE is at once a cinematically beautiful, chillingly insightful, and deeply personal piece of documentary filmmaking.
Here's the
trailer
:
Winner of a dozen top documentary festival awards, including the Special Jury Prize at Sundance and the Grand Jury Award at the Full Frame Documentary Festival, the film is described as "a personal journey into the heart of darkness" and "investigative journalism of the highest order."
Enemies of the People
is screening at the Quad in New York on July 30 and at the Laemmle Music Hall in Los Angeles on August 6. The film seems more relevant than ever with the recent war crimes tribunal in Cambodia. For more information about the film, go to the
Enemies of the People
website
here
.