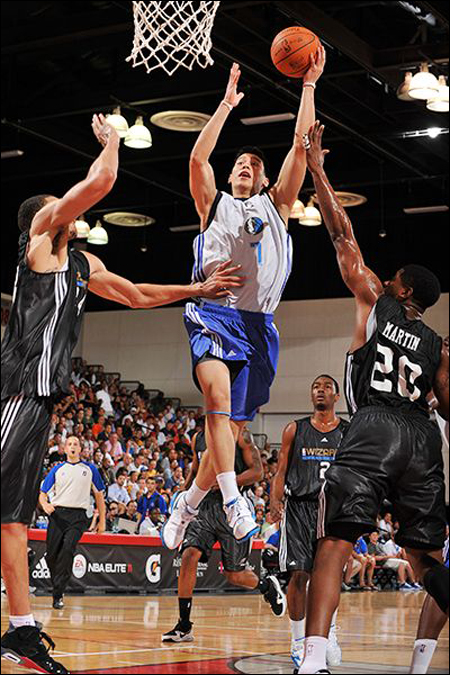 Looks like Jeremy Lin is coming home! According to sources close to the talks, summer league sensation Jeremy Lin is close to signing a contract with his hometown team, the Golden State Warriors:
Sources: Lin near deal with Warriors
.
According to ESPN, the Warriors, by offering to guarantee more than half of Lin's potential first-year salary of nearly $500,000, have reached an agreement in principle with the point guard from Harvard. Looks like Jeremy's hustle on the court in Las Vegas paid off:
Lin's Bay Area roots and consistently strong performance with the Dallas Mavericks' squad in Las Vegas prompted the Warriors to chase Lin hard and ultimately outbid a handful of teams that have been pursuing him since summer-league play ended Sunday.

The Mavericks and Los Angeles Lakers were among the first teams to try to sign the 6-foot-3 guard for next season, but agent Roger Montgomery told ESPNDallas.com on Monday that the publicity Lin attracted for outplaying prized Mavs youngster Roddy Beaubois -- while routinely flashing better-than-expected athleticism in the process -- generated a clutch of new offers.

The Warriors have a need for a guard depth behind stars Monta Ellis and Stephen Curry after restricted free agent C.J. Watson signed an offer sheet Monday with the Chicago Bulls that resulted in Watson joining the Bulls via sign-and-trade.

A Western Conference scout said of Lin's play in Las Vegas: "He showed that he can be an NBA point guard. He showed us he can finish, defend and has above-average athleticism."
This is awesome, and it makes sense on many levels. The Warriors need a point guard. And after Jeremy Lin killed it at NBA Summer League -- turning a lot of heads -- he's shown that he might just be the man for the job.
Add on top of that, the fact that Jeremy, who grew up in the Bay Area and played for Palo Alto High School, is a lifelong Warriors fan, this is a great match. He will definitely have fans here:
Golden State Warriors to sign ex-Palo Alto High star Jeremy Lin
.
Lin would become the third Asian born in the United States to play in the NBA and first since Rex Walters, the current University of San Francisco coach, who was drafted by the New Jersey Nets in 1993.