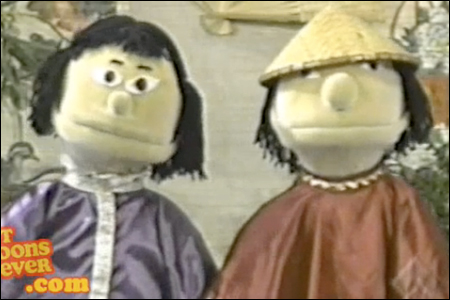 Just saw this posted on Facebook... and it's kind of the most appalling thing I've ever seen:
Jesus Loves the Little Stereotyped, Racist, Puppet Children
.
I'm speechless. This
racist
little puppet rendition of "Jesus Loves the Little Children" -- presumably aimed at little children -- is very inclusive... because it exhaustively offends the Red, Yellow, Black and White -- and Brown kids for good measure. Take a look:
Don't miss the "yellow" solo, when the chinky puppets break it all down, eastern style. Wait for the bow. And that's not even the video's worst part -- there are so many appalling moments to choose from!
I thought it might be a joke, but it's not. According to the individual who uploaded it, it was taped off public access television when he was in college. Somewhere, once upon a time, someone thought this was a good idea. That is truly scary. (Thanks, Peter.)