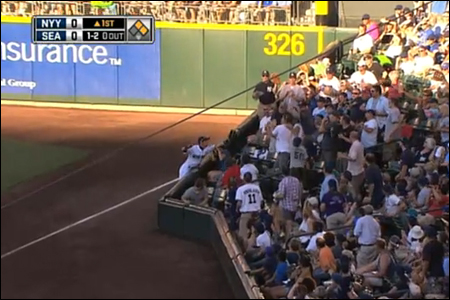 Got a kick out of this video, in which outfielder Ichiro Suzuki had a bit of a run-in -- literally -- with a teenage Mariners fan during a game last week:
Run-in with Ichiro leaves teen 'starstruck'
. Right there on the right field foul line:
The Mariners game against the Yankees was not even two batters old when Mark Teixeira hit a fly ball to right field. As the ball hooked toward the stands, Ichiro gave chase and reached into the first few row of seats trying to snag the ball.

He didn't make the catch, and his extended arm collided with 17-year-old Aris Skinner, who was standing up and holding her cell phone.

The local television station broadcasting the game zoomed in on the young girl, who obviously was thrilled with her meeting with Ichiro. She told a Japanese reporter that Ichiro had asked her if she was OK.

"It was awesome," she said. "I am literally starstruck."
The best part is her reaction, where she has this great fan freakout. "OH MY GOD! I just met Ichiro! Sort of!" Later in the game, the TV station had a baseball and Ichiro jersey delivered to her. Best near-tragic baseball accident ever. Watch the video
here
.