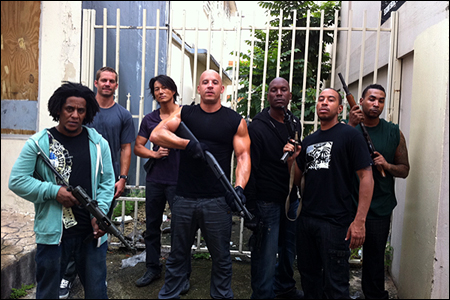 Dudes, guns... and more guns. As we know, there's a
fifth Fast & Furious
movie in the works. Not really a surprise. Considering how much cash the last movie made, making another installment of the auto action franchise was really a no brainer for Universal.
In fact, it appears the movie -- tentatively beings referred to as
Fast Five
-- has already begun production. How do we know? Tyrese
tweeted it
. And I always believe Tyrese's tweets. He recently posted the above photo, featuring the film's stars -- Tyrese, Paul Walker, Vin Diesel, Ludacris... and
Sung Kang?
Of course, director Justin Lin is at the helm. It looks like they've somehow found a way to bring everyone from the previous movie back for
Fast Five
-- even Han, who [SPOILER, but come on,
Tokyo Drift
came out like four years ago] actually died in
Tokyo Drift
.
So how are they doing it? Flashbacks? Prequel? Han's pissed off twin brother? I look forward to seeing how they pull it off. Mainly, I'll be glad to see Han back in action. We better see some drifting! More here:
'Five Fast' cast photo reveals big guns. And weapons too.