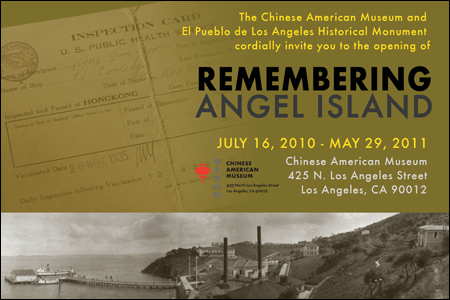 Remembering Angel Island, a new exhibition at the
Chinese American Museum
in Los Angeles, commemorates the centennial anniversary of the opening of Angel Island Immigration Station, urging a collective remembrance of history's lessons amidst the current national debate on immigration. From the museum's press website:
Angel Island is an immigration station off the coast of San Francisco that was open from 1910-1940 to process immigrants coming from the Pacific Rim countries. Dubbed the "Ellis Island of the West," more than one million immigrants from over 80 countries - including 175,000 Chinese - were processed at Angel Island during its years of operations. Many of these detainees were Chinese, who faced intense interrogation and subsequent detention for weeks, months and sometimes even years. The ordeal of this experience left an indelible mark in the lives of Chinese immigrants at Angel Island that forever changed the course of America's history.

Recently, President Barack Obama issued a proclamation declaring January 21, 2010 as "National Angel Island Day" and an excerpt from the proclamation reads: "Many arrived at Angel Island, weary but hopeful, only to be unjustly confined for months or, in some cases, years. As we remember their struggle, we honor all who have been drawn to America by dreams of limitless opportunity."

To commemorate the 100th Anniversary of Angel Island, CAM, in partnership with Angel Island Immigration Station Foundation, is proud to open an exhibition to honor the history, legacy and unforgettable stories of Angel Island. The exhibit will occupy 400 sq. ft of space and will showcase historic photographs, a reproduction of a poem carved on the barracks of Angel Island, artifacts and a multi-media station featuring personal stories of those who endured or were profoundly affected by the Angel Island experience.
The exhibition opened last Friday. A full schedule of public programs designed to provide visitors with a more in-depth understanding and enjoyment of the exhibition, including panel discussions, book signings and film screenings, will be offered through May 2011. All the programs are free to the public except when otherwise noted.
For more information about the Remembering Angel Island exhibit, go to the Chinese American Museum website
here
. Also check out this
Los Angeles Times
article:
Pain, fear and longing: memories of Angel Island
.