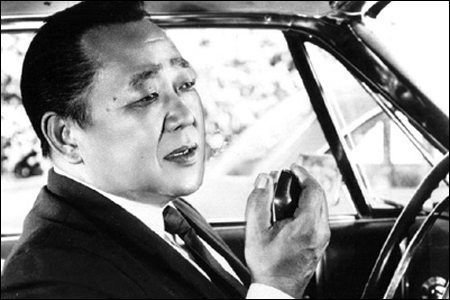 Wow, this is a cool, bittersweet story. Honolulu actor Dennis Chun, whose father, Kam Fong, played Chin Ho Kelly in the original
Hawaii Five-0
, was at a recent showcase by the local Academy of Film & Television when he spotted Daniel Dae Kim, who's playing the role in this fall's CBS remake. So he walked up and introduced himself:
Son of original Chin Ho portrayer meets actor now filling dad's role
. He wanted to wish him well:
"I told him he will do the show proud and do Dad proud," Chun said. "I wanted to wish him all the best. He was very grateful for that and very gracious."

Chun, who works for the state Judiciary and acts in local theater, is ever the gentleman. Last spring he auditioned for the role of the "Five-0" detective when CBS was preparing to shoot the pilot. But the network cast Kim, a familiar face to the millions of fans of ABC's "Lost."

The audition was a bittersweet experience for Chun, whose father, a one-time Honolulu cop, died in 2002. When Chun read the line "I am Chin Ho Kelly," there was a lump in his throat.

It was a treat to meet Kim, who was surprised by the introduction, Chun said.

"It felt good, and it was something I wanted to do," he said. "You want them to do well, and you want them to be a success, not just for the legacy of the show, but for the actors and the community."
The son of Chin Ho Kelly meets the new Chin Ho Kelly. That had to be kind of weird, but cool. I hope someone took a photo. Having seen the pilot episode, and knowing what Daniel capable of, I have full confidence that he'll do the role justice. Shooting is well underway now in Honolulu:
Fast-paced chase scene fires up 'Five-0' shoot
.