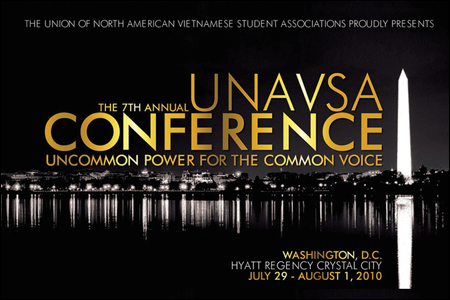 Just wanted to show some love for all of you students headed to the
uNAVSA 7 Conference
happening this weekend, July 29 - August 1 in Washington DC. The conference is an annual gathering dedicated to uniting and developing young, emerging leaders within the Vietnamese community. Here's the conference trailer:
This year's conference theme is "Uncommon Power for the Common Voice" and will feature keynote guest speaker Duy Loan Le, the first Asian and first woman to become a Senior Fellow at Texas Instruments. Here are some more details about the conference:
uNAVSA-7 Conference in Washington D.C.

July 29, 2010 – August 1, 2010
Hyatt Regency Crystal City
Washington, D.C.

"Uncommon Power for the Common Voice"- a united voice is a strong voice.

The Union of North American Vietnamese Student Association (uNAVSA) is hosting yet another great conference! This year the event will take place in Washington D.C. Four days packed with fun, tours, workshops, panel discussions, a culture show, gala, and after party.

The seventh annual uNAVSA conference is considered to be one of the premier youth conferences... in the country. Hundreds of undergraduates, graduates, and young professionals from around the country will participate in a multi-day event to hone their leadership skills, hold discussions with speakers, and explore issues in the Vietnamese American youth community.
It's all going down this weekend in D.C. Just a few days left until the conference... are you going? For further details, including the full program schedule, speaker bios, and registration information, go to the uNAVSA conference
here
.