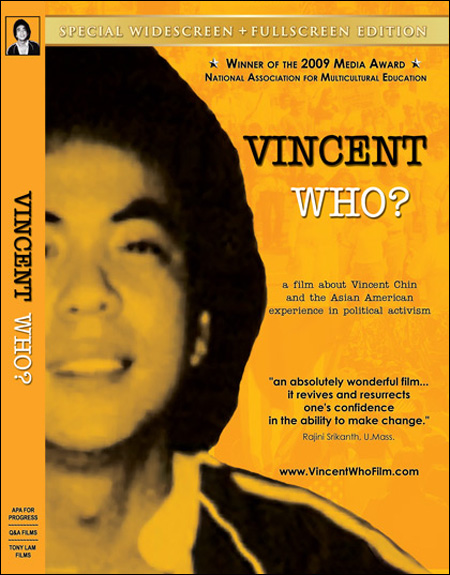 I've been meaning to mention this for the better part of a month... The 2009 documentary
Vincent Who?
recently became available on special edition DVD. If you weren't able to catch a screening, you can now purchase the film and watch it from the comfort of your couch. Here's the trailer:
The film examines how the Vincent Chin murder case ignited the Asian American civil rights movement and gave rise to a new Asian American identity and community. Here's the official synopsis:
VINCENT WHO? (2009, 40 min): In 1982, Vincent Chin was beaten to death in Detroit by two white autoworkers at the height of anti-Japanese sentiments. The culprits received a $3,000 fine and no jail time. Outraged by this injustice, Asian Americans around the country galvanized for the first time to form a pan-Asian identity and civil rights movement.

VINCENT WHO? explores this important legacy through interviews with the key players at the time as well as a new generation of activists impacted by Vincent Chin. It also looks at the case in relation to the larger narrative of Asian American history, in such events as Chinese Exclusion, Japanese Internment, the 1992 L.A. Riots, anti-Asian hate crimes, and post-9/11 racism.

Ultimately, the film asks how far Asian Americans have come since the Chin case, and how far we have yet to go.
If you haven't seen this film, it's an important, vital work that delves into the legacy of this historic case -- a horrible tragedy that changed the momentum of our community. If you've seen Christine Choy and Renee Tajima's incredible documentary
Who Killed Vincent Chin?
, this is a excellent companion film.
To order the DVD, and for more information about the film, including supplementary video interviews and further educational resources about the case, go to the recently revamped
Vincent Who?
website
here
.