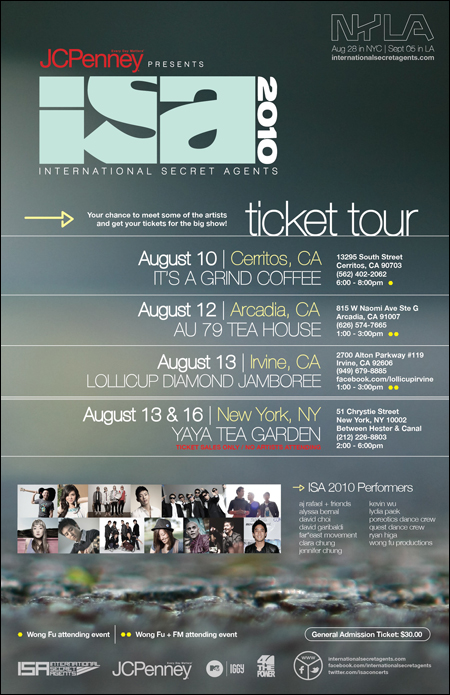 This week, the ISA folks will be doing a little tour around Southern California to promote and sell tickets for the upcoming concerts. The guys from Wong Fu Productions and Far East Movement will be on hand to say hello. Here's some more information:
It's here! Come meet some of your favorite artists before the concert and pick up your tickets in person to the ISA concert before they officially sell out! The ISA Los Angeles ticket tour is coming to a town near you and you definitely don't want to miss this opportunity. You never know who else might stop by. Save the dates now - and see you there!

Tuesday, August 10
It's a Grind Coffee
13295 South Street
Cerritos, CA 90703
(562) 402-2062
6 - 8pm
*Wong Fu Productions will be in attendance.

Thursday, August 12
AU 79 Tea house
812 W Naomi Ave Ste G
Arcadia, CA 91007
(626) 574-7665
1 - 3pm
*Far East Movement and Wong Fu Productions will be in attendance.

Friday, August 13
Lollicup Diamond Jamboree
2700 Alton Parkway #119
Irvine, CA 92606
(949) 679-8885
1 - 3pm
facebook.com/lollicupirvine
*Far East Movement and Wong Fu Productions will be in attendance.

--

And for those of you on the East Coast! We'll have concert representatives at Yaya Tea Garden on August 13 & 16 from 2-6pm if you'd like to purchase your tickets in person.

August 13 & 16
Yaya Tea Garden
51 Chrystie Street
Between Hester & Canal
New York, NY 10002
2 - 6pm
(No artists will be in attendance. Hopefully we'll be able to bring the artists out next time!)

PLEASE NOTE: Only general admission tickets will be sold at all ticket stops until we are sold out. Get yours soon!
If you're anywhere near these locations, come out and meet the guys from Wong Fu or FM, and get your hands on some ISA tickets -- they're going fast. If it's anything like last year's you should make sure you get them while you can. It's going to be a hot show. For more information about ISA and the ticket tour, go to the International Secret Agents website
here
.