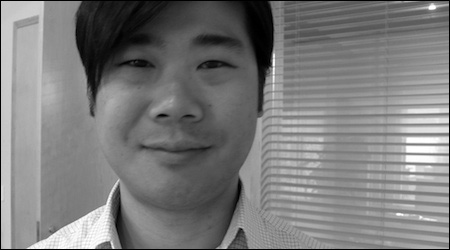 You know what time it is. It's time for another
Angry Reader of the Week
, spotlighting you, the very special readers of this website. Over the years, I've been able to connect with a lot of cool folks, and this is a way of showing some appreciation and attention to the people who help make this blog what it is. This week's Angry Reader is longtime reader and supporter Gary Chou.
Who are you?
Hi, I'm
Gary Chou
.
What are you?
I am a man who will fight for your honor. I'm also a fully recovered
former pre-med.
Where are you?
I currently split my time living in New York and San Francisco.
Where are you from?
I grew up in the south suburbs of Chicago. My parents came to the states from Taiwan in the 70s.
What do you do?
In the pre-Facebook era, I was a volunteer and organizer with a number of San Francisco Asian American community organizations, including Locus, Kearny Street Workshop (APAture), CAAM, and Third Thursdays. I'd do things like organize community arts events, moderate panels, curate visual arts shows, and promote indie films. I've also helped put out a bunch of compilations of Asian American indie bands over the years. Throughout all this I ran a little website that promoted arts events in SF, called MANJA.
More recently, I've been focused specifically on music.
Last year, JetBlue offered these all-you-can-fly passes for the month of September. So, my friends Goh Nakamura, Han Wang and Sadie Contini of
The Invisible Cities
, and
Dean Matsueda
all bought passes and put together an impromptu cross-country music tour, aptly named Follow Your Whim. Thanks to support from our friends like
Giant Robot
and
Poketo
and other Asian American musicians like Annie Lin and Henna Chou we were able to find venues to actually play! I was the roadie, merch guy and the designated driver, and it was awesome.
More recently, together with my homies Goh Nakamura and Kendall Li, we've put together a series of
living room concerts
that we'd also simulcast on the web so that others on the internet could watch. We'd bring in some musicians local to SF as well as some notable out-of-town favorites of ours like
Grand Hallway
and
Big Phony
.
Professionally, I've worked for a number of SF-based internet startups as a product guy. Today, I work at a venture capital firm called Union Square Ventures which funds startups like Twitter and Foursquare and backs some really great entrepreneurs. That's what brought me to New York.
What are you all about?
I've been very fortunate to have met a lot of great, inspiring people (friends, artists, colleagues, teachers) over the years who've helped me in a lot ways. Because of that, it's always made sense to me to try to return the favor when I can. There are few things better than helping your friends realize their dreams.
I also love working on highly collaborative projects where people of different skills and backgrounds come together like Voltron. Then, when we're done, I get to say "dude, this was like Voltron!"
What makes you angry?
Racism. Bad sushi.
Getting stuck in a sick system
.