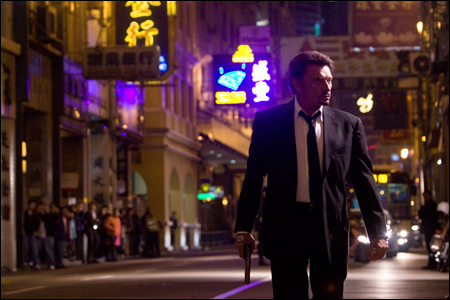 Film fans, you might dig this one -- and you won't even have to seek it out at the local art theater...
Vengeance
, the latest Hong Kong thriller from director Johnnie To, is now available from On Demand from IFC Midnight. That means you can watch it from the comfort of your own home! Take a look at the trailer:
Here's the synopsis:
In a Hong Kong hospital, a French woman lies in critical condition after a gangland hit that killed her Chinese husband and two small children. Her father Costello arrives from France and is immediately warned by police not to get involved, even as his daughter wordlessly pleads for his help. A stranger in a strange land and plagued by a failing memory, Costello sits stunned in his hotel room, scrawling the word "vengeance" over the bloody crime scene photos of his daughter's family. He soon crosses paths with three professional killers who work for the crass and flamboyant mob boss Fung, and asks them to help avenge his family. But as the men get to know their new client, they learn that his past may not be as innocent as they had assumed. As Costello's memory problems worsen, the question becomes: what is the meaning of vengeance when you no longer remember either those who have wronged you or those you have lost?

With his debonair yet rugged good looks and piercing, pale eyes, Hallyday, a pop icon who has sold over 100 million records during his decades-long career and is considered by some to be the French Elvis Presley, adds pathos and depth to the enigmatic Costello. The craggy, lived-in face of Hallyday is as riveting as To's mad scenes of mayhem, which include a fierce nighttime shootout as clouds pass over the full moon and - shootouts being To's stock in trade - an epic battle in a junkyard that has to be seen to be believed.
Honor, loyalty... revenge. I haven't seen it yet, but looks pretty damn awesome, the cast includes a bunch of badass Johnnie To regulars, like Anthony Wong, Lam Suet and Lam Ka Tung. The film can be found under the IFC Midnight label on the following cable systems:
- COMCAST: Movies On Demand (Ch.1) > Indies & Foreign > IFC Midnight
- TIME WARNER / BRIGHT HOUSE: Movies On Demand > IFC In Theaters
- COX: Movies & Events > IFC in Theaters
- CABLEVISION: Movies On Demand > Independent Films > IFC Midnight
Here's a recent
New York Times
article on how distributors are employing On Demand options to make hard-to-find films like
Vengeance
more accessible to pretty much anyone with a cable subscription. For more information about
Vengeance
, go to the IFC website
here
.