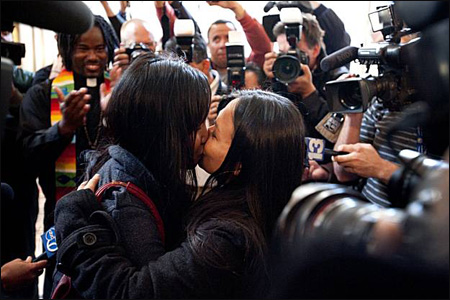 Did you hear? In San Francisco, a federal judge struck down Proposition 8, finding it unconsitutional. The voter-passed November 2008 initiative denied same-sex couples the right to marry in the state of California:
Judge strikes down Prop. 8 ban on same-sex marriage
. Here's part of the press release from API Equality:
Today, federal district court judge Vaughn Walker ruled that California's Proposition 8 violates the U.S. Constitution in denying gay and lesbian couples the right to marry. Civil rights and advocacy groups, including Asian and Pacific Islander (API) organizations and leaders, praised the judge's decision. Today's win is particularly gratifying for the API community who has been at the forefront of efforts to gain marriage equality both in California and nationally.

"API Equality-LA and our partner, API Equality-Northern California, applaud the judge's meticulous and carefully reasoned decision that Proposition 8 violates the basic constitutional rights of lesbian and gay couples," said Doreena Wong, Co-Chair of API Equality-LA. "The judge's conclusions add to the growing consensus in courts and legislatures across the country that no good reasons exist for continuing to exclude same-sex couples from marriage. Instead, the evidence and legal arguments showed that Proposition 8 harms loving gay and lesbian couple and their families, while helping no one," added Heidi Li, API Equality-Northern California Steering Committee Member.

Judge Walker's decision is important to Asian and Pacific Islanders (APIs) in California, where the more than 66,000 APIs who identify as gay or lesbian comprise the largest community of Lesbian, Gay, Bisexual, Trans, Queer, and Intersex (LGBTQI) APIs in the United States, according to the Williams Institute at UCLA School of Law.
To read the full press release, go to the API Equality website:
Asians and Pacific Islanders Applaud Federal Court's Ruling Against Proposition 8
. This fight is far from over, but for the moment, it's a victory. Crazy day in California... but a good day for justice and fairness.