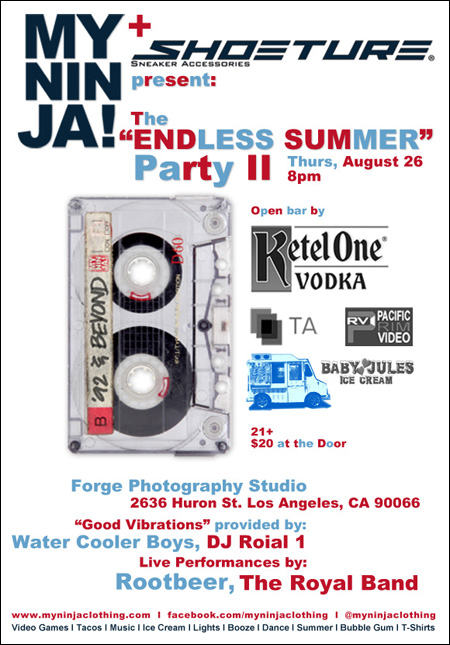 Real quick... if you're in Los Angeles, our friends at My Ninja! are throwing a big ol' fun gathering, the Endless Summer Party II. It's happening this Thursday, August 26 at Forge Photography Studios. Here are some more details:
MY NINJA! & SHOETURE present the "ENDLESS SUMMER" Party II

Thursday, August 26
8:00pm - 2:00am

Forge Photography Studios
2636 Huron St.
Los Angeles, CA

We're Back at it Again!!! Please come and join us as we celebrate "Summer" in Los Angeles.

Last Year's "Endless Summer" party brought a diverse group of musicians, dancers, and artists from all across Los Angeles to celebrate bubble-gum wrappers, tacos, Nintendo, Soda-Pop, Jordans, vinyl, ice creams, and dance machines.

The Far East Movement (Interscope) rocked the stage along with Rootbeer (Pigeon John & Flynn Adam), and Peter D...aily. Dancers from MTV's America's Best Dance Crew's The Beat Freaks, Kaba Modern, and Fanny Pak were in attendance.

This year will be no different. Summer should never end, and what better way to celebrate the rest of Summer with great music, live performances, drinks, tacos, video games (SF2, 8bit) and chocolate dipped ice cream cones.

OPEN BAR: provided by KETEL ONE

FREE TACOS & ICE CREAM Cones!!!

LIVE PERFORMANCES BY:

ROOTBEER (Pigeon John & Flynn Adam) - http://myspace.com/rootbeersound

PETER DAILY & THE ROYAL BAND - http://myspace.com/whoispeterdaily

SURPRISE DANCE CREW PERFORMANCES

GOOD VIBRATIONS PROVIDED BY:

WATERCOOLER BOYS (Denkym, Headright, Peter Rocks)
DJ ROIAL 1

(Spinning all the Good music, and funk the Hollywood stuff)

$20 at the Door

MEDIA PARTNERS:

TRANSPARENT AGENCY
PACIFIC RIM VIDEO PRESS

Must RSVP to info@myninjaclothing.com.
Limited Capacity!!! Only names on the list will be admitted!!!
Music, dance, open bar, free tacos and ice cream cones... what kind of an awesome party is this? For more information, and more reasons to check out this party, go to the My Ninja! blog:
10 Reasons why our "Endless Summer: Party is Dope
.