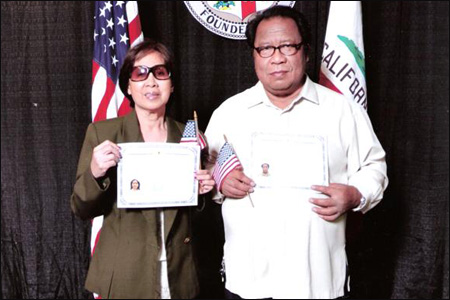 Organization of Chinese Americans-Greater Los Angeles chapter is awarding a $675 naturalization grant to assist to one qualified individual in Los Angeles County in applying for U.S. citizenship:
2nd Annual Citizenship Grant Offered by Los Angeles Asian Pacific American Nonprofit
This one-time grant will provide financial assistance towards application fees, while also giving the recipient the opportunity to receive assistance from the Asian Pacific American Legal Center throughout the naturalization process. Here are some more details:
MENTORED PATH CITIZENSHIP GRANT

APPLY TODAY!
Apply for this grant to receive...

FINANCIAL ASSISTANCE
$675 towards application fees

MENTORSHIP AND GUIDANCE
Legal assistant throughout entire citizenship process

Apply online at www.oca-gla.org or, to obtain a paper application, receive assistance in filling out the application, or get more info, contact:

OCA-GLA
1145 Wilshire Blvd., 1st Floor
Los Angeles CA 90017
213-250-9888
info@oca-gla.org

APPLICATIONS DUE SEPTEMBER 17, 2010
Perhaps you or someone you know could make good use of this opportunity. Applicants must show proof of residency in Los Angeles County and demonstrate eligibility to become a U.S. citizen. Candidates will be interviewed in a confidential screening process by OCA-GLA with assistance by APALC.
For further information, and to download the Mentored Path to Citizenship Grant application, go to the OCA-GLA website
here