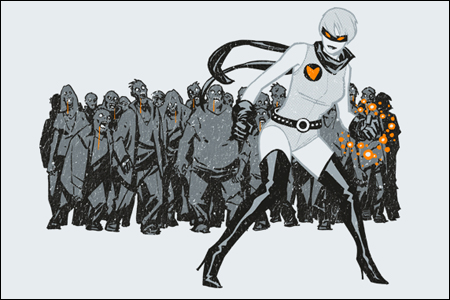 Wow! Digging this super cool t-shirt design by comic book artist Cliff Chiang, available from Threadless:
Every Night I Have the Same Dream, Issue 3, Vol. 1
. It's part of series from several different artists:
I've been buying Threadless shirts for years, so when Jill asked me to design one, I was definitely in! I had part 3 of the zombie story, which shows our hero using her superpowers. In designing the character, I tried to draw something that had some obvious superhero flair, but not so over-the-top that you couldn't proudly wear it on the street, y'know?

The first sketch I did had about a million colors. It looked great as an illustration, but as a shirt, it just didn't seem to have any style. You can walk into Target these days and get a pretty decent, vintage-y superhero shirt, so the bar is actually pretty high. I also thought a lot about it being a unisex design. I wanted a shirt that both my guy and girl friends would wear. Since the shirt came out, I have to say it's a pretty awesome feeling to run into someone wearing your shirt!

I took a step back and started to think about the shirt as a whole design and not just an illo. Things started to click when I reduced the palette and softened the whole look. After a little work, I was pretty happy with the drawings themselves butI did feel like the shirt was missing something. A friend suggested the barcodes, which really opened the design up so all the negative space felt intentional. If you scan the codes, they actually say "Threadless" and "Chiang"!
An unbeatable combination of two very awesome things one nicely-designed shirt: a sleek superheroine and an army of the undead. To order it, head over to Threadless
here
.