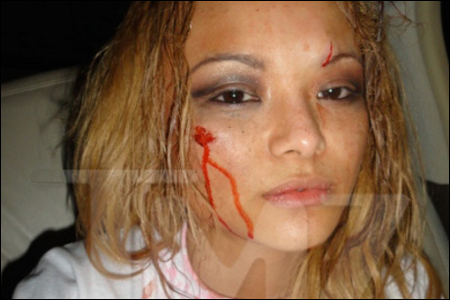 I'm no fan of Tila Tequila, and normally, news of an unruly concert crowd booing and turning on her would be kind of amusing... until I got a glimpse of
these photos
and my stomach turned:
Tila Tequila Attacked at Rowdy Concert
.
She was on stage performing (singing? rapping? something.) at the Gathering of Juggalos music festival in Illinois over the weekend when she was pelted with rocks, suffering facial cuts. Not even
flashing her breasts
could quell the crowd:
A wrestler who was performing at the Gathering of Juggalos tells TMZ ... TIla Tequila literally had to stand behind a wall of security guards while on stage -- and not even flashing her breasts could stop the onslaught.

Colt Cabana -- formerly of the WWE and currently wrestling with ROH (Ring of Honor) -- tells us that halfway through the chaos, Tila ripped off her top to try and distract the crowd. But, he says, that only worked for about a minute before they all went back to throwing stuff at her.

Cabana says the ordeal lasted about 15 minutes. A security guard told him someone had a watermelon that had been fermenting in urine and feces for two days and that they had been saving it all weekend for Tila. No word if the watermelon connected.

Cabana tells us it was his first year wrestling at the event and he loved it, adding the highlight was seeing Vanilla Ice perform "Ninja Rap" from the "Teenage Mutant Ninja Turtles II: The Secret of the Ooze" soundtrack. Yes, really.
Sorry, I had to include that part about Vanilla Ice performing "Ninja Rap." Actually, nothing about that makes any sense. Tila Tequila's boobs, professional wrestlers, urine-fermented watermelon, and Vanilla Ice -- what kind of godforsaken event was this?
I don't care what you think of Tila Tequila as a "celebrity," model, musician or whatever she considers herself, nobody deserves this kind of violence directed at them from a freaking mob. Hell, it sounds like some people actually came to this event with the intention of attacking her.
But hey, leave it Tila to turn a bad situation into a press opportunity. TMZ is all over it. More here:
Tila Tequila suffers cuts, but escapes juggalos attack
.