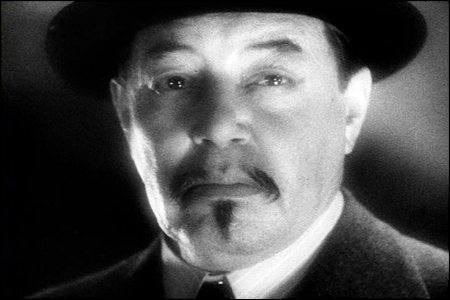 To many Asian Americans, the Charlie Chan character is an offensive stereotype. From his origins as the "hero" of six detective novels by Earl Derr Biggers, to the titular sleuth in 47 Hollywood movies between 1926 and 1949 (not to mention a 1970 Hanna-Barbera cartoon series,
The Amazing Chan and Chan Clan
), Chan has usually been characterized as slant-eyed, inscrutable and unable to speak in anything but fortune cookie ching chonglish.
Sure, he was the supposed hero -- always the smartest guy in the room, always one step ahead to save the day. But what's always bothered me is the yellowface. Chan was always played by a white actor, most famously by Warner Oland and Sidney Toler. I haven't seen all 47 movies, but I've seen enough to know the character was always someone else's terrible interpretation of what a Chinese guy should be.
So I'm not particularly fond of the Charlie Chan. But I'm pretty intrigued by this
New York Times
article on author Yunte Huang and his new book
Charlie Chan: The Untold Story of the Honorable Detective and his Rendezvous with American History
, which is part memoir, part history, part cultural studies essay and full of little-known details about the character:
Biggers, who overlapped at Harvard with T. S. Eliot but did not exactly share his literary taste, said he got the idea for Chan while sitting in the New York Public Library in 1924 and reading about a real-life Honolulu detective named Chang Apana. Mr. Huang suggests that Biggers may have misremembered the details, but there is no doubt that Apana was the model for Chan, and Mr. Huang gives a full account of a life that was in many ways more interesting than the fictional version: born in Hawaii to Chinese parents, Apana moved to China and then back to Hawaii, where despite being virtually illiterate, he rose in the detective ranks of the Honolulu police. He wore a cowboy hat, carried a bullwhip and was said to leap from rooftop to rooftop like a human fly.

Mr. Huang gives an equally full account of Chan's movie history and of the actor with whom he was most memorably associated: a Swede named Warner Oland, who played a Jew in the first talkie, "The Jazz Singer," and then, because he had vaguely Asian features, made a specialty of Oriental villains. (The original Chan, George Kuwa, was Japanese.) Oland was a heavy drinker, Mr. Huang writes, and liked to take a nip before slipping into the Chan persona: it slowed down his speech and put a congenial, Chan-like grin on his face. In 1938, after Oland had boozed himself to a premature death and was replaced by an American named Sidney Toler, movie producers encouraged him to try the same trick.
I'm a huge movie history buff, and have always fascinated by the story of real-life Honolulu detective Chang Apana -- the inspiration for Charlie Chan -- so I might pick this book up. It's due out later this month. The
New Yorker
also recently ran a pretty good piece on Charlie Chan:
Chan, the Man
. (Chan is
so
hot right now!)
Having said how much I hate the old Charlie Chan movies, I wouldn't mind seeing a new one, revamped and reinvented for this century and starring an actual Asian actor. I thought Phil of YOMYOMF's recent post outlining his idea for a Charlie Chan/Fu Manchu movie was pretty cool:
Why I'd Love To See A New Charlie Chan Film (And Fu Manchu Too!)
.