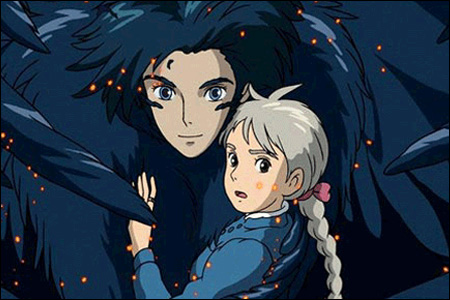 San Franciscoooooo. Our friends at the Center for Asian American Media have partnered up with the Japantown Merchants Association to present free outdoor screening of Hayao Miyazaki's
Howl's Moving Castle
. It's happening Sunday, September 19 at Japantown Peace Plaza. Here are some more details:
Summer Screening: HOWL'S MOVING CASTLE

Sunday, September 19, 2010 | 8:30PM

FREE FOR EVERYONE!
Peace Plaza in Japantown
Post Street at Buchanan Street
San Francisco, CA

HOWL'S MOVING CASTLE follows the story of Sophie, 18-year-old girl who toils in the hat shop opened years ago by her late father. Often harassed by local boys, one day Sophie is unexpectedly befriended by Howl, a strange but flamboyant wizard whose large home can travel under its own power. However, the Witch of the Waste is displeased with Sophie and Howl's budding friendship, and turns the pretty young woman into an ugly and aged hag. Sophie takes shelter in Howl's castle, and attempts to find a way to reverse the witch's spell with the help of Calcifer, a subdued but powerful demon who exists in the form of fire, and Markl, who protects the four-way door which can instantly take visitors to other lands and dimensions.

Early arrival highly suggested. Seating is first-come, first-served.
Sounds like a really fun event for the whole family. Like it says, arrive early, because seating is limited. And do bring a blanket -- you know it can get quite chilly. For further information about the screening, go to the CAAM website
here
.