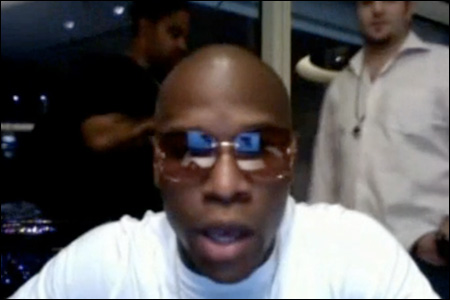 Shortly after making a profanity-filled
racist rant against rival Manny Pacquiao
on uStream, boxer Floyd Mayweather took to the internet again to "apologize":
Mayweather apologizes for racist tirade
. The problem is, the
apology
is even worse:
It's a fairly typical 'sorry-if-I-offended-anybody' refrain, complete with the rationale that he can't be racist because he's down with "Jews. Puerto Ricans, Dominicans, Mexicans, whites" etc.:
"I do want to apologize for what happened the other night," Mayweather said. "I want to apologize to everybody. They felt it was a racist comment that came from me. I don't have a racist bone in my body, you know. I love everybody. Some of my guys are Muslims. Some of my guys are Jews. Puerto Ricans, Dominicans, Mexicans, whites, it doesn't matter. There is nothing but love in my heart, you know what I'm saying?

Prior to apologizing, Mayweather embraced two Asian women, who said they were Thai and Chinese. He asked one of them if she spoke Thai and kept asking her to "Speak some Thai."
Here's actually the worst part:
It's offensive, demeaning, and there's no point to any of it. Chillin' next to a pair of Chinese and Thai women and acting like an ass, then proclaiming that your gym is in Chinatown, that somehow demonstrates that you're down with the Asians? So all that
racist
bullshit you said about Pacquiao was just kidding around?
This guy is not sorry for a goddamn thing. I said it before, but if this damn fight ever happens, I really look forward to seeing Manny beat Mayweather's ass.