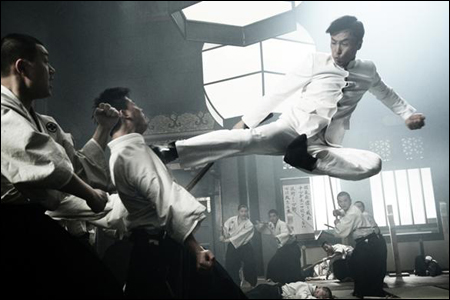 Hey, San Diego! In case you haven't heard, the
11th annual San Diego Asian Film Festival
starts tonight, kicking off a weeklong celebration of the best in Asian American films, international cinema and beyond.
For the Opening Night film, they've got the U.S. premiere of the martial arts epic
Legend of the Fist: The Return of Chen Zhen
, directed by Wai-keung Lau and starring Donnie Yen. Here's the
trailer
:
Here's the movie's description, according to SDAFF:
Set seven years after the conclusion of the landmark 1995 television series, Fist of Fury, Donnie Yen (Ip Man, SDAFF '09) reprises his role as the famed Chen Zhen in this new film. Chen Zhen, presumed dead after avenging his mentor Huo Yuanjia, returns to a Japanese-occupied Shanghai incognito in order to infiltrate the local crime organization. Upon his arrival, Chen Zhen soon befriends a nightclub owner (Anthony Wong) and becomes involved with a sexy nightclub performer (Shu Qi). While undercover, he discovers that the mob has been secretly colluding with the Japanese and when the Japanese military disseminate a "death list" of local targeted for assassination, the heroic Chen Zhen dons his mask and fights for the Chinese resistance.

Directed and lensed by the famed Andrew Lau (Infernal Affairs), the film artfully combines cutting edge visual style, dynamic martial arts action and the talents of a star-studded cast. With his charismatic performance, Donnie Yen rightfully takes his place amongst the greats of martial arts cinema in playing an iconic character first immortalized by the legendary Bruce Lee in the original 1972 film Fist of Fury. Described by The Hollywood Reporter as a "popcorn movie of epic proportions," LEGEND OF THE FIST: THE RETURN OF CHEN ZHEN is a film not to be missed.
SDAFF is a true Asian American community event. You don't just watch movies -- you get to hear from and interact with the people who make and support them. (In addition to all the fun parties and gatherings.) Are you going? Here's a handy
SDAFF video
how to enjoy a film festival:
The 11th Annual San Diego Asian Film Festival takes place October 21-28 at the UltraStar Mission Valley Cinemas at Hazard Center in San Diego. For more information, including the full schedule of screenings and events, go to the festival website
here
My friends and fellow film fans, it's going to be fun. I will see you there!