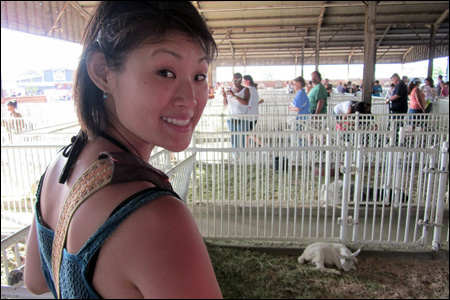 Okay. It's time to meet another
Angry Reader of the Week
, spotlighting you, the very special readers of this website. Over the years, I've been able to connect with a lot of cool folks, and this is a way of showing some appreciation and attention to the people who help make this blog what it is. This week's Angry Reader is Junko Goda.
Who are you?
I am Junko Goda!!! Daughter of immigrant parents, who define the American dream, conqueror of most of the US, trying to dominate the rest of the World.
What are you?
I am Shin-Nisei! (Shin-Nisei = Japanese Americans born post-war to first generation Japanese parents. I've started writing a book on it!). I am also someone who feels that they are sometimes stuck between many cultures: Japanese, US, East Coast, West Coast, Buddhism, Methodism, arts, non-arts...
Where are you?
Los Angeles, Koreatown in my studio apartment that survived the late September heat wave without A/C.
Where are you from?
Technically, Mt. Prospect, IL (that's where the Blues Brothers get their cop car), but have also lived in Kobe, Japan, Maine, Boston, and now I'm an LA girl, but I consider myself an East Coast transplant.
What do you do?
I do acting, performing, writing, martial arts, fire spinning, equestrian, karaoke-ing, interpreting, translating, listening to lots of music, wine tasting, and helping out with my communities.
What are you all about?
I'm all about evolving. I'm all about my friends and myself evolving and helping each other in the process. It's scary, but I'd rather live my life pushing myself/each other ever day than be in a safe place all the time which is also why I LOVE being an actor and artist!!! I'm all about being FIERCE and FEARLESS.
What makes you angry?
There are too many, but here are a few that make me angry and I can do something about it:
- Violence against women makes me angry. Sept. 2010: "Rape being used as a weapon of choice in the Democratic Republic of Congo." Oct. 2009: "NoCal gang rape of a girl outside of homecoming." I try to support local organizations like participating in a Victim Rights run or one of my favorites: Little Tokyo Service Center.
- Typos in leading sources of the news. I email the editor and sometimes they write back!
- Last but not least: paper cuts make me angry. I put Neosporin + Pain Relief Cream on it, band aid optional.