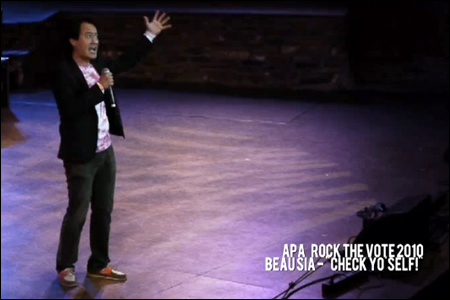 Because you need to check yourself. Here's spoken word badass Beau Sia performing
"Check Yourself,"
a piece he wrote and performed last month at an APA
Rock the Vote
concert rally in Los Angeles. Watch Beau drop some serious knowledge:
Here's Beau's description of the piece:
i wrote and recited this for a "get out the vote," event on sept 17th, 2010, in los angeles, ca. though performed in front of an audience primarily of asian descent, the content of this piece is for everyone to become more involved making their government reflect their needs. there are too many people to thank for this. for supporting my voice. for making this video. for putting together the event in which it was filmed. for working so hard to build a better world for something greater than themselves.
You should watch the whole thing, but I especially like that last part:
"If you don't start checking yourself, you'll only have yourself to blame when someone more willing comes along and wrecks yo' self. Fool."
Are you registered to vote? In order to vote in the November elections, you have to registered, and deadlines are coming up fast, depending on your state. For more information, and to register to vote, go to the Rock the Vote website
here
. Oh, and for more from Beau Sia, go to his Facebook page
here
.