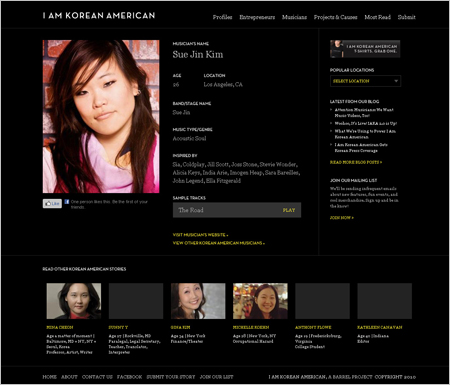 Real quick.
I Am Korean American
is an online project that features daily profiles and stories of Korean Americans. Since starting in October 2009, the site has featured over 250 profiles from a diverse range of Korean Americans. IAKA recently launched a new version of its website. Read on for detals:

The latest website version of IAKA features two major additions: Entrepreneurs and Musicians. The Entrepreneurs section requires participants to answer specific questions about how they started their business, what they learned, and advice they can share with others. The aggregation of such content will result in a database of knowledge that can inspire and educate potential entrepreneurs. The Musicians section allows musicians to upload their music video and/or up to two tracks to give readers a sampling of their talent. This section will eventually showcase the broad range of musicians in the Korean American community and also help musicians gain more exposure through the site.

Other website enhancements include a Popular Locations sorting function, a new blog, and six random thumbnails of previous profiles at the bottom of every page.
Check it out, and check out the new features. It's a pretty simple concept, but kind of cool to hear from perspectives of all the different folks out there. And
submit
a profile of our own, if you feel so inclined. See it all in action
here
.