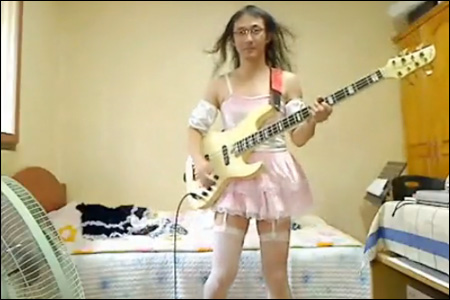 Why is this freaky bass player suddenly the face of California's gubernatorial race? If you ask some people, it might be because he's waaay more interesting than both Jerry Brown and Meg Whitman. But actually, it's because he just became kind of famous, in that only-on-the-internet kind of way, thanks to a funny little Twitter typo by Whitman's campaign:
Cross-Dressing Korean Bassist Rocks the California Gubernatorial Race
.

Now Meg Whitman's press secretary, Sarah Pompeii, has demonstrated the care that we all must take when copying links from bit.ly, the link-shortening program frequently used on Twitter. In a tweet this week, Pompeii had wanted to share a press release trumpeting the San Diego County Sheriff's Association endorsement of Whitman. But she mistakenly left off the last letter of the bit.ly link. And, as so often happens, the corrupted link led to a YouTube video of cross-dressing Korean bassist Hyunmo Kim, a.k.a. H.J. Freaks.
Here's the
video
in question. Yeaaah. I do love the fan effect. Definitely
not
an endorsement from the San Diego Sheriff's Association. But Meg's definitely got the cross-dressing Korean bassist vote! More here:
Nearly a full day later, Meg Whitman's spokeswoman is still linking to cross-dressing Korean bass player
.