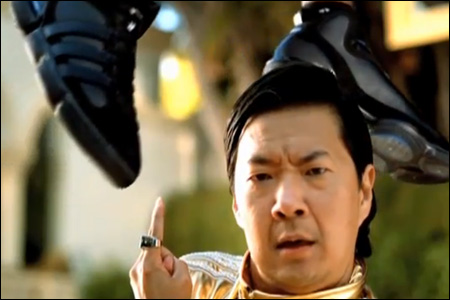 This new Adidas Basketball campaign starring Dwight Howard and Slim Chin (aka Ken Jeong) is pretty damn hilarious:
Fast Don't Lie
. I don't know if any of it makes me want to buy or wear those shoes, but the sight of Ken Jeong in a gold tracksuit had me laughing from the moment I hit 'play.' Feel the smoove groove:
"A musical journey into the world of fast, that tugs at the heartstrings while juking you out of your seat. Featuring Slim Chin, Derrick Rose, Dwight Howard, the adiZero Rose, the Beast, one cheetah and a solid gold jet ski."
Say what you will about some of Ken Jeong's roles and career choices -- I haven't always been down -- but the guy is a damn funny talent. If you haven't seen him on NBC's
Community
, where he pretty much steals every scene he's in, you're missing out.