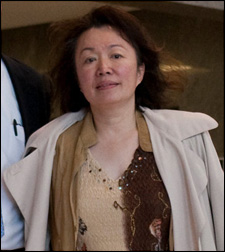 Asians behaving badly... forced student labor edition! Cecilia Chang, a former administrator at St. John's University is accused of forcing students to clean, cook and act as her personal servants to keep their scholarships:
Ex-Dean Accused of Using Students as Servants
.
Previously accused of embezzling about $1 million from the university while she was dean and vice president, Chang now faces charges of forced labor and bribery, according to a federal complaint made public this week:

As the dean of the Institute of Asian Studies at St. John's, Ms. Chang had the authority to grant 15 scholarships a year. The recipients, most of whom were from overseas, were told they had to work 20 hours a week under her supervision.

The students thought they would be doing work related to the university. Instead, according to the prosecutors, she forced them to perform menial tasks at her home in Jamaica Estates, Queens.

One of the students had to drive Ms. Chang's son to the airport at 3 a.m., the complaint says, and another had to deliver cash to her at Foxwoods Resort Casino in Connecticut.

And she made it clear that if the students did not perform their extracurricular duties, they would lose their scholarships, which were worth at least $5,000, the complaint says. The loss of the scholarships might have forced some of the students to drop out, it adds.
Not only was she stealing cash from the university to fund her baller lifestyle -- money for lingerie, casino trips, and no joke, her son's own tuition -- Chang was also exploiting scholarship-dependent students to do her personal dirty work.
Unless you can explain how giving Ms. Chang a ride to the hair salon is an appropriate work-study job, that is some serious power tripping.