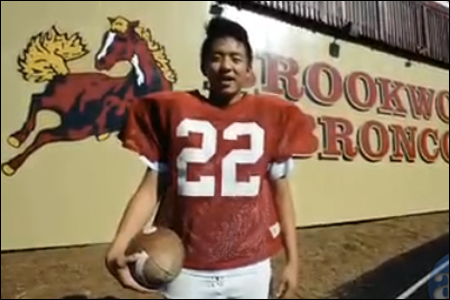 Saw this cool sports story posted on Yahoo's front page... Erick Yang, kicker for the Brookwood High School football team in Georgia, has been getting a lot of attention for his unusual ability to kick the ball with both feet (not at the same time):
Two-footed Georgia placekicker creating quite a stir
.
It's not just that he can kick with either foot. He can kick with either foot with great power and accuracy. (The right foot's a bit stronger than the left.) The craziest part? The kid never even played football before the 2010 season:

That's right, according to the Atlanta Journal-Constitution, Brookwood's kicker is ambipedal ... or two-footed, if you prefer. Yang, who never played football before the opening kickoff of Brookwood's 2010 season at the Georgia Dome, has connected on field goals beyond 30 yards with his left foot in practice, according to Brookwood coach Mark Crews, not to mention his kickoff which travelled 55 yards.

"I kick a football the same way I kick a soccer ball," Yang told the Journal-Constitution. "I've been playing soccer my whole life, so it was an easy thing for me. ...

"Kicking left and right foot is about the same, but my left foot is a lot weaker than my right foot."

That said, Yang told the Journal-Constitution's Michael Carvell in a separate interview that he's hit from well beyond 30 yards with his left foot when he wasn't in a game.
Yang was one of his school's top soccer players when he tried out for the football team. Turns out, he's found another calling, and having a blast. Not to mention turning a lot of heads in the sport. Could we see Erick Yang playing college football? More here:
Brookwood coach Mark Crews thinks this first-year wonder can play college football
.