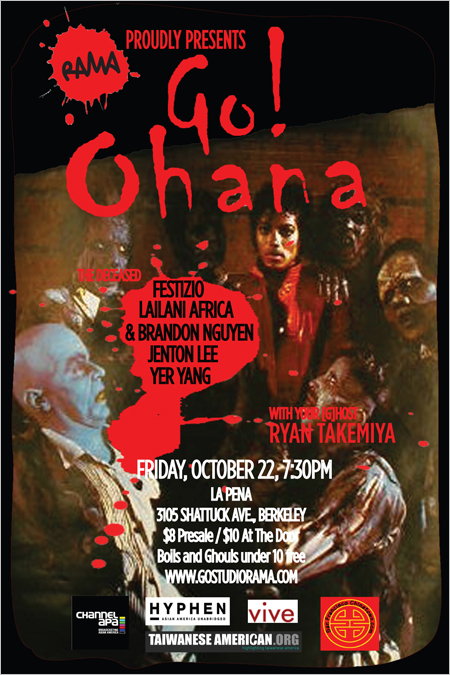 What's up, Bay Area friends. You're invited to join
RAMA
for its monthly GO!OHANA show, celebrating APA artistry and community. This month's show -- their very first Friday evening show -- features the Festizio, Lalani Africa and Branden Nguyen, Jenton Lee, and Yer Yang. It's happening this Friday, October 22 at the La Pena Cultural Center in Berkeley. Here are some more details:

AMA presents:

GO!OHANA
Friday, October 22
7:30pm (Doors open at 7pm)

La Pena Cultural Center
3015 Shattuck Ave., Berkeley

$10 dollars general admission / $8 presale on facebook page
Emcee: Ryan Takemiya

FEATURING:

- Festizio (www.festizio.net)
- Lailani Africa and Branden Nguyen
- Jenton Lee (http://youTube.JentonLee.com)
- Yer Yang

Food and Drink!
Free Raffle!
Fun and Games!
In the spirit of Halloween, check out that awesome retro Michael Jackson
Thriller
flier. For more information about GO!OHANA!, go to the RAMA website
here
. Or visit the Facebook event page
here
.