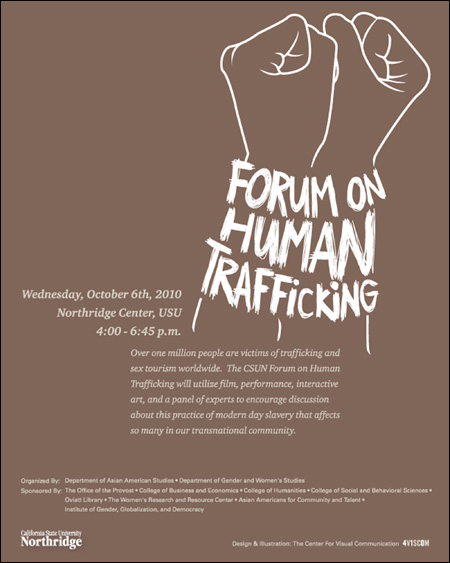 If you're in Southern California, here's some info about an interesting event happening this week at Cal State Northridge... Asian Americans for Community and Talent (AACT) has partnered up with several other campus organizations and departments to host a forum and educate students about human trafficking.
The event will also address CSUN economics professor Kenneth Ng, who made headlines earlier this year when it came to light that he happens run a
Thai sex tourism website
in his spare time, promoting advice to American tourists interested in meeting young Thai women. Yeah, great guy. Here are some more details about the event:

Forum on Human Trafficking

Wednesday, October 6
4:00pm - 7:00pm

CSUN - Northridge Center in the USU

The Forum on Human Trafficking is an educational campaign built to inform students about sex tourism and human trafficking. This campaign was sparked by the controversial news of California State University Northridge Professor Kenneth Ng owning a website that promoted the "Thailand girl scene." On the week of April 18, 2010, numerous media sources reported of Ng's involvement, where he provided observational and experiential advice as instructional guides for foreign men to use for the exploitation of women in Thailand's sex industry. An estimate of 500,000 to 700,000 women work in commercial sex, and one-third of the women are minors. Due to sex tourism, hundreds of thousands of people in Thailand are subject to human violations such as rape, physical and mental abuse, familial displacement, and torture.

His website feeds into demand of sexual exploitation of women in third world country who are victims of poverty and inequality. We as students respect his rights to freedom of speech, however, condemn his actions towards commercializing this industry through his personal blog. We understand that the issue of human trafficking is beyond this one man. It is our goal to promote an awareness campaign and make a statement that CSUN students do not condone the commercialization of sex tourism and human trafficking of men and women.

The Forum will be held on Wednesday, October 6th, 2010, from 4p.m. to
6:45 p.m. Organized by Asian American Studies and Gender and Women Studies, the forum is sponsored by the following agencies: the Colleges of Business and Economics, Humanities, and Social and Behavioral Sciences; the Office of the Provost; the Women's Research and Resource Center; and the Oviatt Library. The forum will be held at the Northridge Center and there will be food catered by University Club for all of our guests. We will also have a guest speaker, Chancee Martorell, as a panelist. She is the executive director of the Thai Community Development Center (Thai CDC) and is also the co-founder of the Coalition Abolishing Slavery and Trafficking (CAST). She has been a key player in demanding civil rights for Thai American victims as well as victims from other ethnic communities. Chancee will be speaking about the reality of human trafficking from a non-profit perspective and how students can help make an difference to help end human trafficking.
For further information about the event, go to the Facebook event page
here
. Here is the CSUN Asian American Studies Department and Gender and Women's Studies Department's statement released last spring upon discovering Kenneth Ng's blog:
AAS & GWS Joint Letter to CSUN Administrators Regarding Professor Ng
.