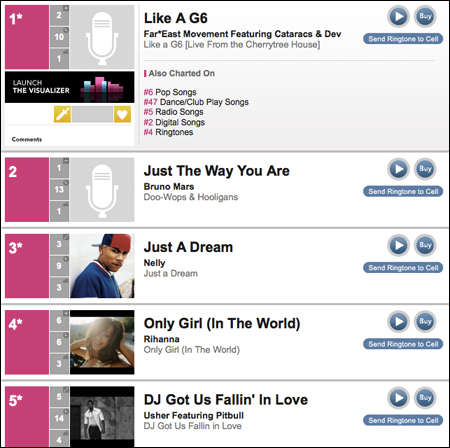 Oh, excuse me. May interrupt your daily routine to inform you that Far East Movement's "LIke a G6" is
number one
on the Billboard Hot 100 chart? HELLLL YEAH:
Far East Movement Tops Hot 100 with 'Like a G6.'

os Angeles-based quartet Far*East Movement is set to move to the top spot of the Billboard Hot 100 with its debut single "Like a G6" (2-1) when the chart is released tomorrow (Oct. 21). The act knocks out fellow newbie Bruno Mars, who falls to No. 2 after four weeks at No. 1 with his premiere single as a lead act, "Just the Way You Are."

Among multi-member acts, Far*East Movement is the first to take its initial chart appearance to No. 1 on the Hot 100 since D4L hit the top with "Laffy Taffy" in January 2006. Though "G6" is pushed down to No. 2 on Digital Songs by Taylor Swift's new arrival "Back to December," it shifts 223,000 (up 1%), according to Nielsen SoundScan, for its best single-week sum to date.
And that's after kicking ass at number one on iTunes. Did I mention that these guys
are my people
? And holding it down with Bruno Mars at the number two spot. This is crazy! And I like it. For more on Far East Movement and their album
Free Wired
, go to FM's website
here
.