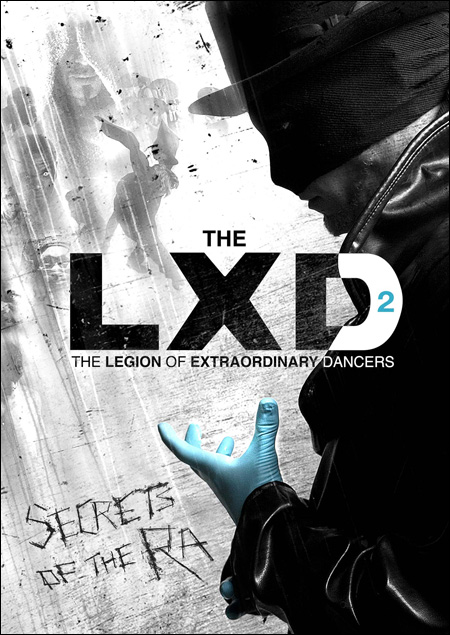 Check it out. The next installment of director Jon M. Chu's epic dance adventure web series saga thing
The LXD: Legion of Extraordinary Dancers
went live last night. Honestly, I don't always entirely understand what's happening, but it doesn't matter -- I came to see the awesome dancing. You've already met the heroes... in season two, "Secrets of the Ra," you'll meet the villains:

This season, Dance goes evil. From creator, Jon M. Chu (STEP UP 3D), the epic saga charges forward with THE LXD: SECRETS OF THE RA as the forces of good and evil go head to head towards an explosive showdown and true heroes are revealed. Trevor Drift (Luis "Bboy Luigi" Rosado) will understand the sacrifice necessary to fulfill a family legacy, the Dark Doctor's (John "Jrock" Nelson) shocking past reveals the motives behind his madness, and a powerful new villain, The Wave (Ricardo "Frantick" Rodriguez, Jr.) unleashes the might of Organization X. Each new chapter delves further into the LXD mythology as the mystery continues to unfold. Featuring all your favorite heroes from Season One including Sp3cimen (Chadd "Madd Chadd" Smith), Elliot Hoo (Glee's Harry Shum, Jr.), and Ninjato (Galen Hooks) as they redefine what it means to be extraordinary.
Here are the first two episodes of Season 2:
Chapter Eleven:
The Legion
. Letters in hand, our reluctant heroes discover the underground headquarters of the Legion of Extraordinary Dancers and the new adventure that awaits them... if they so choose.
Chapter Twelve:
Lessons
. Training begins for our LXD recruits as they uncover the secrets of the Ra and hone their powers.
To catch up with all the previous chapters from season one, go to Hulu
here
. New episodes get released every week. For more information on the story, the characters, the dancers and behind-the-scenes video, go to The LXD website
here
.