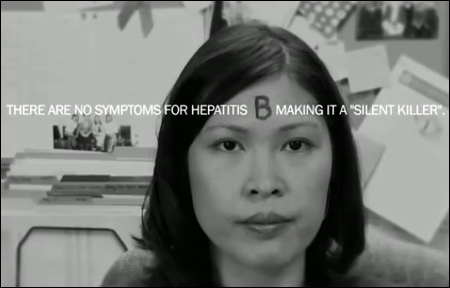 The U.S. Department of Health and Human Services' Office of Minority Health, the Hepatitis B Foundation and the Association of Asian Pacific Community Health Organizations recently launched a new campaign to raise awareness of the epidemic of chronic hepatitis B among Americans of Asian and Pacific Islander heritage.
The truth: chronic hepatitis B, a life-threatening liver disease caused by the hepatitis B virus, affects our community disproportionately. But it's totally preventable and treatable. The focus of the campaign is a new television public service announcement that encourages Asian Americans to get tested for the disease:
Chronic hepatitis B is known as a
"silent killer"
because it can slowly destroy the liver over time without causing noticeable symptoms. It's world's leading cause of liver cancer, second only to tobacco among known human carcinogens. That sucks, but want to hear the real kicker?
Americans of Asian and Pacific Islander descent experience the greatest burden of the disease in the United States. Although Asian Americans comprise only 5 percent of the U.S. population, we represent more than half of the estimated 1.4 to 2 million people chronically infected with hepatitis B in this country. And most of us don't even know it.
Hepatitis B can be diagnosed with a simple blood test. Yes as many as two-thirds of Asian Americans living with the disease have no idea they're infected. That's craziest part. Watch the PSA
here
, then visit the Hepatitis B Foundation website
here
for more information about the disease (available in several Asian languages.)