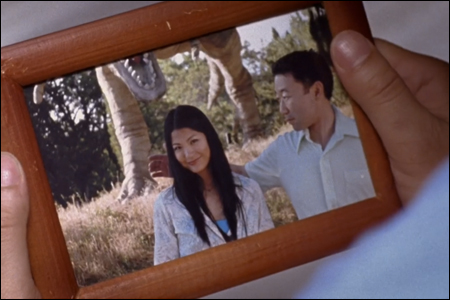 This week's marks the official special edition DVD release of the indie comedy
White on Rice
. I think it was previously available as a bare-bones, semi-bootleg DVD, but now it's all official with bonus features and all that. Directed by David Boyle, it's about a lovable loser (okay, maybe just a loser) who just can't seem to get a grip on his adult life. Here's the
trailer
:
Here's the movie's official synopsis:
Jimmy (Hiroshi Watanabe, LETTERS FROM IWO JIMA) loves dinosaurs and sleeps on the top bunk. Unfortunately, Jimmy is 40 and shares that bunk with Bob (Justin Kwong), his 10-year-old nephew. Freshly divorced, Jimmy lives with his sister Aiko (Japanese Academy Award winner Nae) and her family while boldly searching for a new wife. His brother in-law, Tak thinks he's a disaster. And although Jimmy may lack social grace, he is convinced the best years of his life are just beginning. His plan seems like it's all falling into place when Tak's beautiful niece Ramona (Lynn Chen, SAVING FACE) moves in. But once Jimmy sets his sights on stealing her from his best friend Tim (James Kyson Lee, Heroes), he sees his intentions go hilariously awry.
The retail edition comes with a bunch of bonus DVD features, including:
- Feature length DIRECTOR'S COMMENTARY
- 30 minute documentary on our JAPAN PREMIERE
- deleted scenes
- Optional English or Japanese subtitles
- Trailers, TV spots, Webisodes and a music video featuring Goh Nakamura
Not bad. While the DVD is available at stores in select areas of the country, your best bet is probably ordering it online. You can get it directly from the
White on Rice store
, or just go to
Amazon
if that suits you better. Oh, and the movie will also be available for rental on Netflix starting next Tuesday, October 19. For more information about
White on Rice
, go to the movie's website
here
.