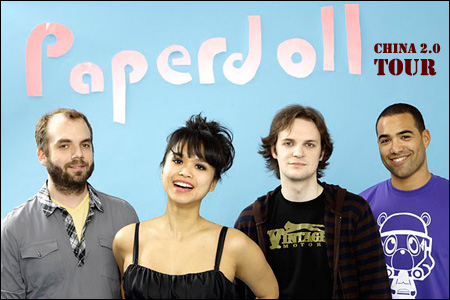 One of my favorite bands,
Paperdoll
, is currently on tour in China, October 12-29. I've invited lead singer (and former
Angry Reader of the Week
) Teresa Lee to contribute some guests post chronicling the band's journeys.
They beat visa speed bumps and a nasty allergic reaction, but now the tour is going full speed. Having conquered the World Expo stage with their awesomeness, the band has hit the road and is rockin'! Literally...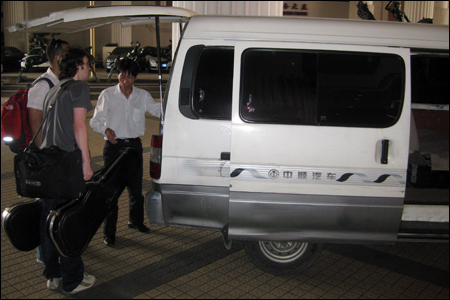 The tour is well underway!
All members are safely in China, out of the hospital, and relatively healthy. After a few World Expo shows in Shanghai, we head out to Suzhou to a town called Kushan on Saturday. Our driver picks us up in a large white van, it is no-frills (and by "no frills" I mean no seat belts or shocks). Patrick (guitarist) put it best... "If this van's a rockin'... then we just hit a speed bump going 80 km per hour."
Suzhou is supposed to be 2 hours away, but our driver gets us there in an hour and 20 minutes. We get to the "small" city and there are skyscrapers and canals everywhere. A quaint urban oasis of 9 million.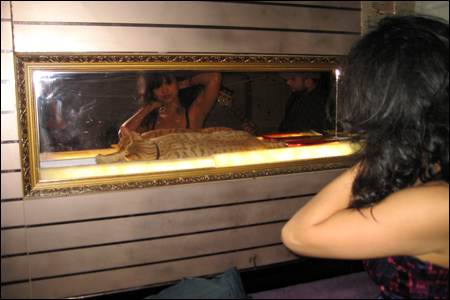 We pull up to Whales Livehouse where the owner Tree (he is tall with dreads) greets us. The club is decorated with a giant Bob Marley Mural (Tree jokes that Bob Marley is his father), and has a friendly cat who is nice enough to share his dressing room with us.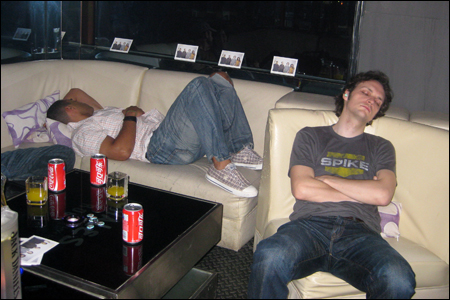 Tree and his staff are the best hosts we can hope for -- they take us out to dinner, get us drinks, and seat us in a cozy VIP area... maybe a little too cozy. Patrick and Chip fell asleep after soundcheck. In their defense, it's been a long day.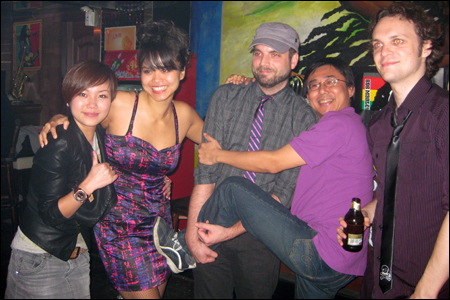 The set is lively with people singing, cheering, and dancing. Someone even brings up a flower for me. So sweet. Afterward, we sign some autographs and take photos with people. Steve even makes a new friend who shows him the "Suzhou greeting" which involves a full leg lock. Such a great town with a fun sense of humor. We really love Suzhou.
We hang out with Tree and friends and then head back to Shanghai at 2am. Each speed bump cementing our loving memories of Suzhou.
We have to get some rest 'cause we have a show in Shanghai the next night at Yuyintang. One of our favorite clubs from our last China tour in August.
The next day is a blur of interviews and meeting. That evening we head to Yuyintang and are met by Dern -- the manager. We soundcheck and then head upstairs to write the set list and change. I'm a little nervous 'cause I have no idea who will show up.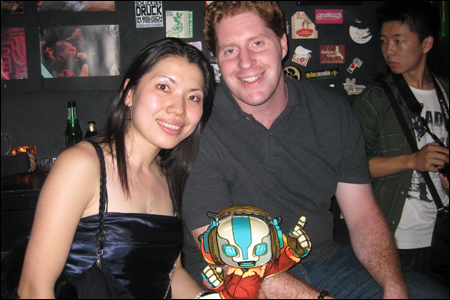 We go downstairs for our set and the place is packed! Completely sold out! People who were in the crowd at the Expo sino-ed and qq-ed (Chinese Twitter and Facebook) each other and got all their friends to come. Not just locals, but ex-pats from all over the world. A nice couple from Pittsburgh even spent their last evening with us! It felt like a New York gig with people singing along and dancing. I can't believe there was so much partying on a Sunday night. Shanghai really knows how to bring it!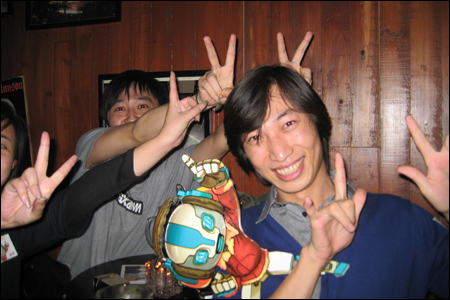 Everyone posed with DJ Robot -- he's always the most popular guy at the party.