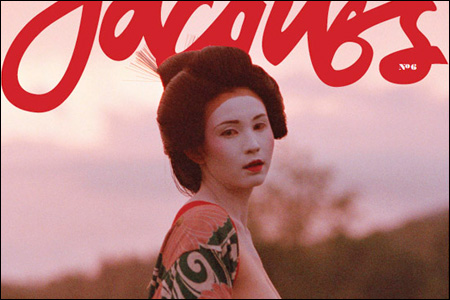 I recently heard from Sydne, who posted about this on the
Japanistic/Blog
...
The New York Times
Sunday Styles ran a piece about the new Brooklyn-based magazine
Jacques
, which fancies itself as a cool, hip and edgy "re-imagining of the classic men's magazines of yesteryear." In other words, retro-porn:
Taking Pornography Low Tech
.
Which is... well, you can think whatever you want about that, but for the purposes of this blog, you should know that the Fall 2010 issue, which reaches newsstands this week, has an Asian theme and includes articles about massage parlors and martial arts. Yup, gag, it's the
All Asian Special Issue
. From Japanistic:

The Asia Issue includes such riveting articles as Kung Fu Cinema, and Sex in Asia. Cutting edge stuff, I know.

...

Yup-Geisha face, and a half-worn kimono. Truly the face of Asian women today, don't you think? "Real Beauty of Real Women"? I don't think so.

It's nothing new to recognize that Asian women are fetishised. But that's the problem with it. This is STILL happening? Does retro-styling mean that we have to employ old imagery and stereotypes? Is this the only option available to us?
Seriously. You can try to hide behind the guise of edgy hipster cool, but 1970s-era-styled Asian fetish porn is still Asian fetish porn. We're supposed to think it's all awesome and stuff because it's, ooh, retro? No thank you. Read the rest of Japanistic's take:
Sometimes retro just sucks.
And by the way, for some "cool Japanese stuff, without the porn," check out the fun and stylish products available at the Japanistic store
here
. (Thanks, Sydne.)