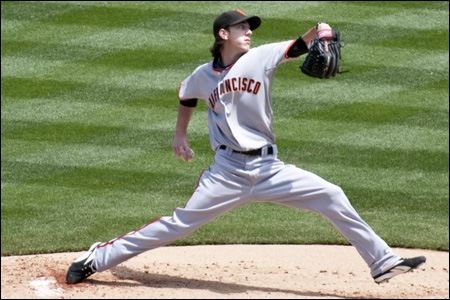 Just for fun... Here is some baseball-inspired poetry, in honor of the San Francisco Giants playing in the World Series (Game 1 tonight!), courtesy of some third and fourth graders at Commodore Sloat Elementary School in San Francisco:
Kids write the darndest Giants poetry
.

It's a Splash Hit

It's Barry Zito hitting
home runs to the crowd.
Next up-Freddy Sanchez!
Crowd goes wild. Freddy hits the ball high flying
up, up, up-it's out of the park.
It's a splash hit!
Home Team's the winner.

-Alden Cheang, 4th grade

Orange Baseball Caps

It's a hard baseball of
calm robins dancing.
It's sweet sugary lemonade.
It's an excited catcher,
Buster Posey, throwing
apples, stars, and
orange baseball caps.

-Jun Chan, 3rd grade

There They Go!

There they go up into
the sky-the orange and black
balls shoot up all over
the stars.
And there they go! Home
run! Crowd bursts into action.
I wish I were the steel bat
as it hits a home run.
There he goes-fast as lightning
and it's a miracle he catches the ball.
There they go-howling, yelling,
roaring, too. That's the crowd for you.

-Madison Chang, 4th grade

New Planets

It's a silver bat hitting a blue baseball
in the night sky while wolves awake
in hidden caves near the calm
Pacific Ocean filled with creatures
looking at the night sky
and the icy Milky Way
while scientists
seek new planets.

-Daniel Doan, 3rd grade
Okay, so that last one doesn't have a whole lot to do with baseball. As the SFGate blogger points out, young Daniel obviously has bigger things on his mind than baseball. Or he's smoking something strong. Anyway, if you didn't know,
my team is in the World Series
.